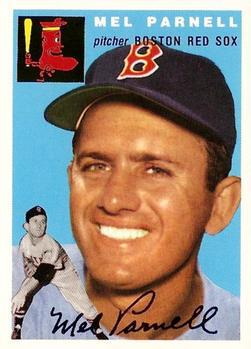 I was saddened to learn this morning that the great Mel Parnell, one of the Red Sox all-time greatest lefties, died at the age of 89.
He pitched ten seasons with the Sox, from 1947-56, and was the last Red Sox lefthander to win 20 games, 21 in 1953. His best season was 1949, when the Red Sox narrowly missed winning the pennant, and Parnell won 25 games, with an ERA of 2.77. He won 123 games in his career, and still holds the team records for wins, games started and innings by a lefty. A torn muscle in his pitching arm ended his career in 1956.
He was the first pitcher to throw a no-hitter for the Red Sox since Howard Ehmke did it in 1923 when Parnell pitcher a 4-0 no-no against the White Sox at Fenway. He was an announcer after his playing days were over, and did the Red Sox games from 1965-1968 on TV and radio.
Mel was elected to the Red Sox Hall of Fame in 1997.
When Jon Lester threw his no-hitter in 2008, he was the first Sox lefty since Parnell do it, and when Lester just missed winning 20 in 2010, Parnell's name came into the discussion, being the last Sox lefty to reach that plateau.
My sympathies to Mr. Parnell's friends and family.