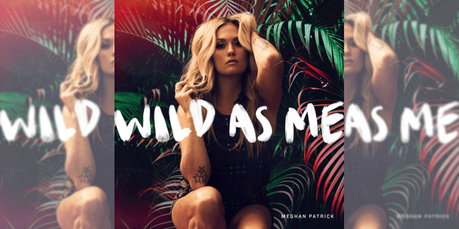 Award-winning Canadian country music star Meghan Patrick has released her new EP, Wild As Me and continues her run as one of the genres most celebrated artists from coast-to-coast.
The 2017 and 2018 Canadian Country Music Association's Female Artist of the Year presents six songs on her new EP, including the lead single Wild As Me and the follow-up, Chaser. The 19-minute collection is strong. It's balanced and personal, and in her own words, "the most special by far" of her career to date. The songs are the continuation of a career arc that follows Patrick's growth in writing, signing, and life. And she nailed it.
Over the last few years, country music fans have followed Meghan Patrick through Bow Chicka Wow Wow and Grace & Grit to The Bad Guy and Walls Come Down (her first #1 hit at Canadian country radio). And now they'll follow her again as she prays, plays, and puts herself out there to be seen and heard.
This slideshow requires JavaScript.
Country music's tradition of sharing its stories no matter how vulnerable they are is long and true, and on Wild As Me, Meghan embraces it. It's not the first time, we've loved I Won't Drink since the first time we heard it. And now, we have the doubt and helplessness that comes in low times on Praying Right and the struggle back and forth of dealing with the right and wrong of feelings and perception on Things I Shouldn't Say to add. They may not make it to radio but they will be on a list of songs that will be loved by listeners.
But if you're looking for radio smashes, songs that a lot of Canadian country fans are going to know the words to, we roll back to the start. Wild As Me currently sits at #13 on the Canadian country radio charts, Chaser is set to follow it up with spins and sing-alongs. And if you asked us to bet on what we'll hear after that, we'd be split between Girls Like Me and I Don't Look At Him. Both would be great choices.
Note: As the Wild As Me EP is released and celebrated, Meghan Patrick is up for Single and Video of the Year for Walls Come Down as well as her third consecutive Female Artist of the Year trophy at the Canadian Country Music Awards (September 8, 2019). This could end up being a weekend with a lot of reasons to celebrate.
Meghan Patrick has built a reputation as a dynamic live performer, bringing big energy and a party with her when she plays. Her first two albums supplied a list of songs that have helped her do that everywhere she's gone. The new EP will add to that and bring more balance when the mood calls for it. Prepare to hear any combination of Wild As Me, Chaser, Girls Like Me, and more when you see Meghan Patrick on stage in the coming months - and be ready to sing along because she'll be ready for you.
In the words of the woman herself,
Wild As Me EP is finally out! buy, stream, share, dance, drink, laugh, cry, and do whatever else you want to it, I love you all so much and I hope you love this EP as much as I do. - Meghan Patrick
Check out the tracklist, the videos for Wild As Me and Chaser, and hit play on the stream to listen to the Wild As Me EP from start to finish now!
Meghan Patrick, Wild As Me Tracklist