In a rush and need a quick and tasty meatloaf?  Try this recipe....and while you are at it, make one or two extra to freeze.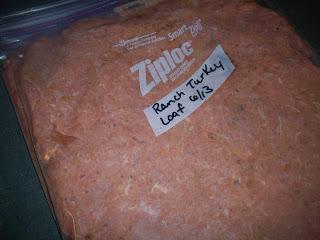 Add caption
To make ONE loaf:
1 lb ground turkey
2 eggs beaten
1 cup crushed ranch-flavored tortilla chips
3 Tbsp ranch dressing
1 tsp chili powder
cumin to taste (optional)
Mix all ingredients together.  For the loaf that you will eat that day, bake at 350 degrees for approximately 1 hour.
Tasty served with gravy, or salsa & sour cream.
For the loaf (loaves) you will freeze, divide evenly into gallon sized freezer bags.  Flatten bags and squeeze out all the air.  Freeze flat.  On serving day, thaw, place in meatloaf pan and bake as above.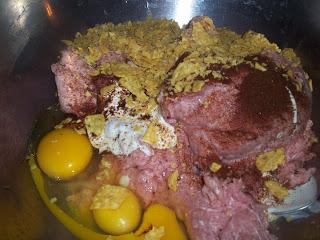 It's not pretty, but very tasty!  This is ingredients for 2 loaves!
Each loaf costs approximately $3 to make! This post written and property of Homeschool Circus and can be found at: www.upatdawnreadytowork.com.