Good Monday!
Looking for another quick and painless freezer meal that's uber tasty?  (As long as you like Feta Cheese! )
Try Chicken Feta....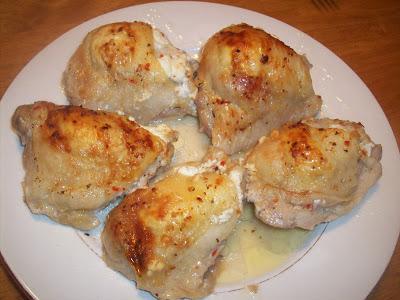 These are best eaten the day they are cooked - so, you'll want to prep them and freeze individually.  This way you can thaw and cook only what you are going to eat in that sitting.
Ingredients:
Approximately 10 Chicken Thighs with skin on.   1 container Feta Cheese Your favorite Italian or Greek dressing
Stuff Feta Cheese under each piece of chicken's skin - keep going until all the Feta is gone.  If waiting to cook them for another day, line a cookie sheet with wax paper.  Place each thigh on the cookie sheet so they are not touching one another.  Put cookie sheet in the freezer just until each thigh is 'set'.  At this point, you can put them into a ziploc bag and be able to take out as many as you need without having them all stick together.
On cooking day - thaw chicken thighs.  Place in a casserole dish and sprinkle dressing on top of each piece of chicken.  Cooked covered with foil for 45 minutes at 400.  Uncover, baste with the pan drippings and cook uncovered for another 15 minutes or until the top gets golden brown.  Pull each thigh out of the pan with a slotted spoon and allow to drain.
CHECK OUT OTHER MEGA MEALS HERE!
This post written and property of Homeschool Circus and can be found at: www.upatdawnreadytowork.com.