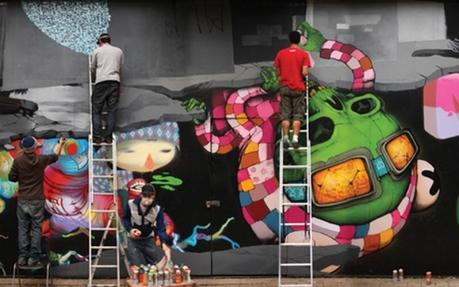 Meeting of Styles need your help in supporting their Kickstarter campaign to fund the block party for 2015.
Taking place 10th - 12th July 2015 at secret wall spots across Shoreditch and Brick Lane in London, it gives you a chance to see some of best collaborative artwork from artists from all over the globe as they descend on London and create huge pieces and murals.
Hosted by EndoftheLine, Meeting of Styles is an international paint festival that happens in 22 cities across the world. EndoftheLine have run the UK leg for the past 7 years.
They've got some amazing rewards on offer, from beatbox and scratch workshops from The Beatbox Collective + Captain Crunch, to original artwork from artists like Gent48 + Dan Chase and big hugs from the team. So no matter how big or little your donation, there'll be something tantalising to get your hands on.
The funding video above features EndoftheLine family member, the master of ceremonies Chu-i, Joe from LDN Graffiti and Reeps One, filmed by BoomCity and featuring clips from MOSUK '11, '14 and the original German event in 2014.
Support the campaign on Kickstarter