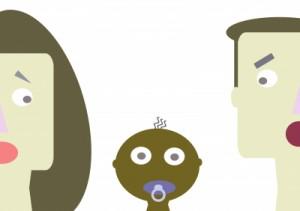 Credit
My name is Tracey Sheedy, I live in Ireland and was adopted when I was a baby. I weighed 5 pounds 8 ounces and was ten days old when my parents adopted me, they met with a social worker at her office to get me, I was just out of hospital having had bad jaundice. They took me home, a couple of weeks later they received a letter in the post from the social worker, my birth mom wanted a picture of me so my adoptive parents sent her a picture. My adoptive mom was so scared that my birth mom wanted me back that my adoptive parents went to court and got it made official so my birth mom cud not get me back.
When I was 9 my adoptive mom explained everything to me about being adopted and how they got me, she showed me all the forms they filled out and the most precious bit of all was a letter all about my birth mom and birth dad. It described what she looked like, brown hair brown eyes, petite and loved to dance, my birth dad had gray blue eyes, was slim with blonde hair and was a trainee barber.
I was shocked at all this information but was excited at the same time that I had another family somewhere in the world and would meet them some time. I couldn't try contact them till I was 18. Also I found out that my birth father didn't support my birth mother when she got pregnant with me and walked away.
When I turned 18 I decided I didn't want to find them for another couple of years. I got pregnant with my son Dylan at 22, after he was born when he was about 6 months I started to search for my birth mom. I contacted my local adoption agency, they made an appointment for me with this lovely women named Barbara Pearse, the appointment wasn't for 6 weeks. I was getting so impatient.
The day arrived to meet her, I was so nervous of what she would tell me. I walked into her waiting room sitting down I was so nervous. She finally called me in, she shook hands with me and we sat down. I explained my situation to her and she went threw her files. She couldn't tell me much only that my birth mums name was Maura and my birth dads name is Terry and there were both still alive. She couldn't tell me much more till she got in contact with Maura to see if she would like to get to know me.
I didn't want to contact my birth dad just my birth mom. She said she would try to find my birth mom and would be in contact over the next couple of months. I had waited for about 6 months when the pone rang one day. It was Barbara, she told me my birth mom had four other pregnancies that had all been adopted too and there was a record of my birth mom miscarrying , but she said she had one son living with her.
She told me she was going to write to her and tell her I wanted contact, I was so nervous and excited at the same time. I was going to find out where I came from and who I was. Weeks went by, months went by and nothing. I felt sad and disappointed. I thought she didn't want to know me. Anyway one day the phone rang it was Barbara. She told me she had called my birth mums house and that Maura my birth mom did want to know me and that she never received the letter.
I was thrilled. Barbara my social worker told me she only lived in Limerick, only 20 minuets up the road from where I live in Newmarket On Fergus. I was shocked because she was so close to me yet so far away. It all got going, Maura sent me pictures of herself and my half brother Eugene, a couple of weeks later and a letter saying how happy she was I got in contact. She also sent me a necklace as a present. I sent her a letter and pictures of me and my family. it was so nice to be in contact.
I had another meeting with my social worker about a month later saying that Maura and Eugene wanted to meet me face to face. I was so nervous! We set a date, it was may 10th 2010 at a nice hotel restaurant in the middle of Limerick City, I couldn't wait. I was so happy. A couple of days went by and I was messing on Facebook and typed Eugenes full name into search, I couldn't believe it, I found him on Facebook. I didn't know what to do so requested him as a friend and he accepted. He knew who I was straight away, we got talking, we talked all night long and exchanged mobile numbers.
He was so nice and actually kind of looked like me, it was so unreal. He couldn't wait to meet me. I found out that after he was born his dad walked out on Maura too! She raised Eugene on her own while being pushed and shoved to different houses. Her parents kicked her out when she first got pregnant and didn't want to know her or even their own grandkids. She was 30 years old when she gave me up. Your thinking the same as me she was a bit old to give a baby up right? But she had no one, not even her parents and she had no money , so i was better off with a family who could give me a proper home and life.
The day arrived to meet them, my adopted dad came with me, he was so supportive through the whole thing, he was brilliant. We walked into the George Hotel and went up the stairs, I was so nervous. felt sick and sweaty. Then we saw Eugene and we went straight over there I was face to face with my birth mum!!! My heart was racing as we shook hands. I couldn't believe it! She was very like me, her hair, her face everything. We sat and talked for ages and exchanged pictures, had tea and sandwiches it felt like I had known them for years.
We exchanged mobile numbers when it was time to go, we hugged and said we would chat soon, so we kept in contact and rang each other every day. She told me all about my birth dad his name is Terry Dillon he lives in Limerick too and has another daughter and is happily married. He left her when she got pregnant with me because he was scared and poor too and his parents were dead, they had died in a car crash so he only had a uncle.
Eugenes dad is in England, he was only a fling and left too. Eugene is a trainee chef and Maura works in a nursing home, they don't have much money and they live in Mauras house which is nearly falling down around them, they haven't the money to re do it up. I have met them a couple of times since and we keep in contact, she sends both me and my son pressies for birthdays and Xmas which is very good of her considering they don't have much. Maura has a few brothers and sisters I haven't met them yet, but hope to in the near future.
I am happy to be in contact with Maura and Eugene and as for my birth dad I haven't forgiven him yet for walking away from me and my birth mum! Well that's my story I will update it some more when I meet more family members.