We'll see her in episode titled "Stable boy"!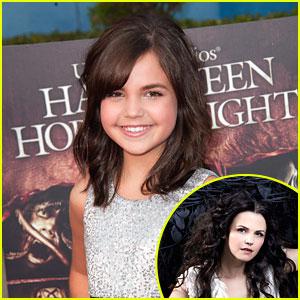 Bailee Madison is sure booking the projects!

The 12-year-old actress is currently in Vancouver filming a guest spot as a young Snow White for an upcoming episode on ABC's Once Upon A Time.

"Tweeting from the fairytale land of #OnceUponATime ….. :) Always remember Dreams Do Come TRUE! Happy Valentines Day.
Source: JustJared.com
Also:
"Don't Be Afraid of the Dark" star Bailee Madison has booked a guest role as a young Snow White on ABC's "Once Upon a Time."
Episode, which will be titled "Stable Boy," has not set an airdate yet.

Madison landed the lead in "Dark" after her "Brothers" co-star Natalie Portman recommended the 12-year-old actress to producer Guillermo del Toro.

Thesp, who most recently starred alongside Adam Sandler and Jennifer Aniston in "Just Go With It," will soon be seen playing Billy Crystal's granddaughter in Andy Fickman's family comedy "Parental Guidance," which 20th Century Fox releases this fall.
Source: Variety.com
And here's the Tweet!
She really looks alike a baby Ginny, eh?