NASA has found the first near-Earth-size planet, thanks to its Kepler mission. Named Kepler-452b, the new planet has been discovered only 1,400 light-years away from earth in the "habitable zone". This planet also has a sun-like star and is similar to Earth in almost every way, except that it's much older and bigger than the Earth.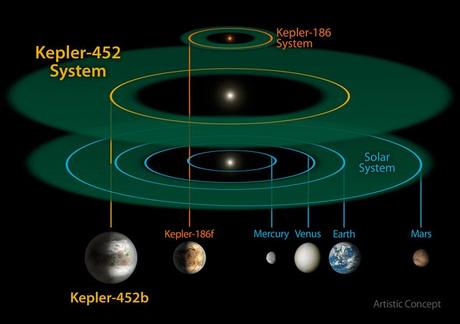 "We can think of Kepler-452b as an older, bigger cousin to Earth, providing an opportunity to understand and reflect upon Earth's evolving environment," said Jon Jenkins, Kepler data analysis lead at NASA's Ames Research Center in Moffett Field, California, who led the team that discovered Kepler-452b. "It's awe-inspiring to consider that this planet has spent 6 billion years in the habitable zone of its star; longer than Earth. That's substantial opportunity for life to arise, should all the necessary ingredients and conditions for life exist on this planet."
Read Also: NASA Releases Stunning Time-Lapse Video Showing 5 Years of the Sun
NASA says that this discovery takes them "one step closer to finding an Earth 2.0″. Latest findings from Kepler mission has also increased the number of new exoplanet candidates to 4,696, an increase by 521 since last observations. With Kepler-452b, the total number of confirmed planets has also been increased to 1,030.
[ Source: NASA – Press Release ]
(All images, trademarks shown on this post are the property of their respective owners)
Follow @nrjperera – Roshan Jerad Perera