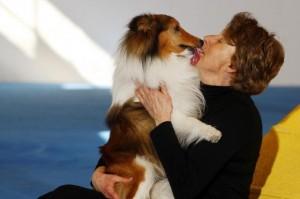 You might think training a dog like DJ to run through tunnels, jump over bars and ride down teeters would take hours of daily drilling. You'd be wrong.
Owner and trainer Jo Ann Eichorn of Alcova subscribes to the 15-to-1 training ratio, a trick she learned from her mentor, Joy Bishop of Nederland, Colo. For every minute she spends training DJ, Eichorn spends 15 minutes on herself — setting up equipment, analyzing sequences, walking through courses and developing a drill-specific plan.
DJ gets about 15 minutes of actual training a day.
"If I'm not confident, he's not confident," Eichorn said.
Eichorn and her husband, Jerry, own five dogs between them, and travel to agility competitions around region. They call themselves the J Team since all of their dogs have names beginning with 'J.'
DJ is the couple's sixth Sheltie and was the "pick of the litter" from Bishop, who is also a breeder. His registered name is Flipside to Keen's Page — The DJ, paying tribute to his dad (Keen), his mother (Page), and to 45-RPM records with music and lyrics on one side and melodies on the other. DJs, flipping records back and forth, control the party.
At 18 months, DJ is still a young dog. But he started getting noticed soon after he started competing.
His second time in the American Kennel Club's Time 2 Beat challenge — in which novice dogs run courses against open- and excellent-class dogs — DJ won first place, though he was just a novice himself. That was in Windsor, Colo., on New Year's Eve.
The winner of last year's Pro Plan Incredible Dog Challenge small-dog agility competition saw DJ's win. That earned him the invitation to compete in the 2013 Incredible Dog Challenge March 1-2 in Las Vegas. DJ won the small-dog agility competition against the best dogs from Utah, Nevada, California and other states. He now advances to the national challenge Oct. 4-5 in St. Louis.
"DJ is an exceptionally smart, highly driven, confident little dog," Eichorn said. "Even though I was shaken by all the booming music, dogs diving in the water, men out throwing frisbees, DJ stayed cool as a cucumber. He has agility in his blood."
This win is sweet, to be sure. But almost as important, Eichorn said, is the attention it brings to the sport. It shows competitors that even dogs and trainers from Wyoming can compete on the national stage, so long as they put in the training — even if it is only 15 minutes a day.
~ Courtesy of Casper Star-Tribune
Tags: agility training, DJ dog, dog competition, dog training, small dog agility