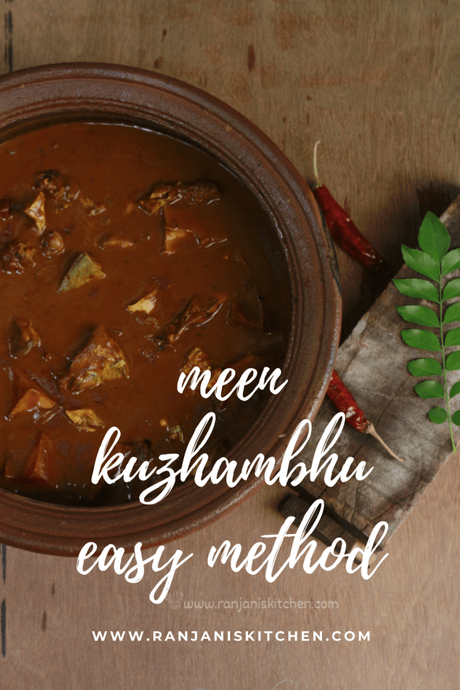 meen kuzhambu for beginners | bachelor meen kulambu - here is an easy meen kuzhambu recipe which anyone can make without much effort. The recipe for fish curry was on my to-do list for a long time. Many of my friends and readers were asking me to post easy and simple fish curry without much grinding and several masalas. This is the perfect way of making meen kuzhambu which you get home-style fish curry without making tired yourself.
My mom used to make it like this. And the kuzhambu tastes amazing on the second day only😋. Meen kuzhambum Mann paanaiyum super-duper combo. So I made it in Mann satti. Couldn't describe the aroma 😊make a try yourselves and enjoy.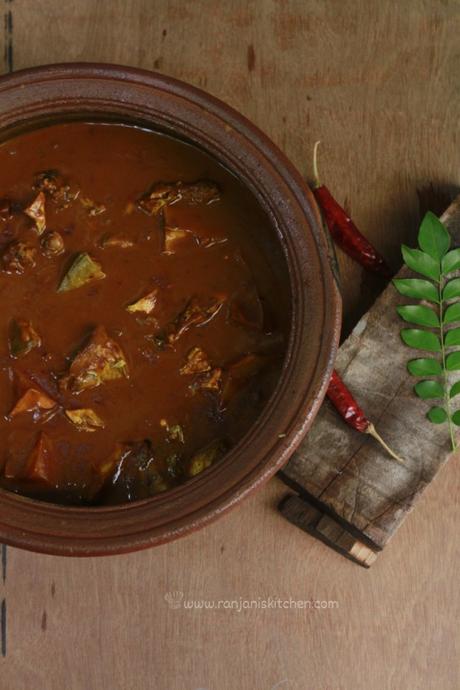 Tips for perfect fish curry
Add old tamarind(pazhaiya puli) for yummy taste and beautiful color meen kuzhambu.
Preferably add vengaya vadagam for seasoning. If not available, add fenugreek seeds and cumin seeds(jeeragam).
Add fish pieces after the kuzhambu becomes thick. Because fish will cook in 2 minutes. If you overcook the fish, the kuzhambu becomes water and tasteless.
And after adding fish pieces, do not over mix as it will make the fish break. Instead of mixing, you can swirl the wok holding it on both sides.
Adjust spice and salt as per your taste.
Here are some of the fish recipes you will enjoy trying.
video recipe of meen kuzhambu for beginners
how to make Tamilnadu style meen kuzhambu
Wash fish pieces with enough water and keep aside.
Soak one big lemon size tamarind and the salt needed for kuzhambhu in warm water for 15 mins. Squeeze the tamarind and extract the water.
Mix ½ cup of kuzhambu milagai thool in tamarind water and keep aside.
Heat the wok, add ¼ cup of sesame oil, and season with vengaya vadagam.
Add shallots and garlic flakes. Saute till the onion turns transparent. Now add the chopped tomatoes and mix well.
Saute until the tomatoes cooked well and the oil starts oozing on top. Add the tamarind and kuzhambu milagai thool mix which we prepared already.
Add some more water and check the consistency. Let it boil for 2 minutes and then add chopped mango pieces.
Cook until the mangoes cooked well and kuzhambhu starts thickening.
Add fish pieces and close with a lid. Do not over mix after adding fish pieces. Keep the flame low for about 2 minutes and turn off the flame.
(Visited 6 times, 6 visits today)