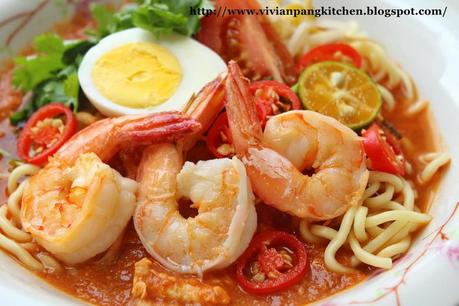 One of the reasons I choose to cook Bandung noodles is because my hubby request. He is 'craving' for Bandung noodles :D He had spent about 6 years in Johor for his U studies. And Bandung noodles is one of his favorite meals while dining out. However my Bandung noodles is not the same as the one he usually eat. I guess there is different version of Bandung selling in Johor. And mine is not the one :P Nevertheless it still tastes good.
According to

Malaysian Kitchen

,
Mee Bandung is a dish originating from Johor, specifically from Muar. The term 'Bandung' is not derived from Bandung, Indonesia but as a term for anything that is mixed from many ingredients.
Recipe reference from

Malaysia Kitchen
Mee Bandung (Bandung Noodles)
Ingredients:
½ kg of yellow noodles, scalded in boiling water
*I used Hokkien noodle
2 tablespoons cooking oil
(A) Grind into paste
1 tablespoon dried shrimp, soaked
3 shallots
2 cloves garlic
1 tablespoon chili paste
1 candle nut (buah keras)
3 coriander roots (optional)
1 tablespoon oyster sauce
1 tablespoon tomato sauce
½ tablespoon of curry powder
(B)
1 ½ cup of water
1 tomato, chopped
salt and sugar to taste
1 egg, lightly beaten
(C) Garnish
Hard boiled egg
Prawns, pan fry till cooked
Blanched bean sprout
Chopped coriander leaves
cut red chilies
cut limes
Methods:
1. Heat oil and add in grounded paste. Fry till fragrant and aromatic. Add water. Stir well.
2. Season with pinch of salt and sugar. Once the gravy come to boil, put in tomatoes and eggs into the gravy. Do not stir the eggs together.
3. When the eggs are cooked, turn off the heat. Reheat just before serving.
4. The scalded yellow noodles will be served in a bowl with the garnished ingredients on top of the noodles. Pour the gravy over the noodles. Enjoy!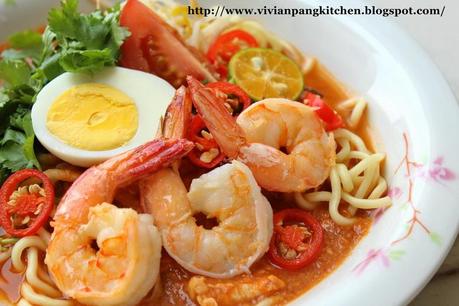 I am submitting this post to 
Malaysian Food Fest
, Johor Month hosted by 

Annie of AnnieliciousFood