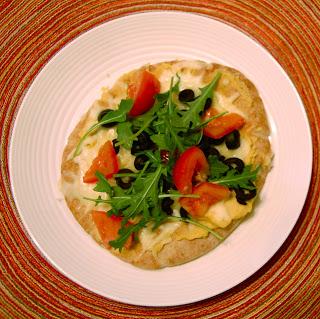 I love this recipe for dinner because it takes only about 15 minutes total to make and it tastes so good! It's also a healthy alternative to take-out pizza.
Ingredients
Flatbread (I use whole wheat pitas or naan)
Plain or Garlic Hummus
Roma Tomatoes (chopped)
Arugula Lettuce
Black Olives (thinly sliced)
Feta or Italian Blend of Cheese
Method
Preheat oven to 400 degrees. Place flatbread on cookie sheet and spread a layer of hummus over top of bread. Sprinkle feta or Italian cheese over top of hummus. Next add olive topping. Bake at 400 degrees for about 5-10 minutes or until cheese is melted. Add chopped tomatoes and arugula topping. Serve immediately and enjoy!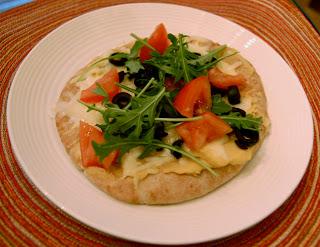 Recipe adapted from Betty Crocker Middle Eastern Pita Pizza Recipe found at the following link:http://www.bettycrocker.com/recipes/middle-eastern-pita-pizzas/fdaee466-9f19-4928-9766-f3eb7390a311