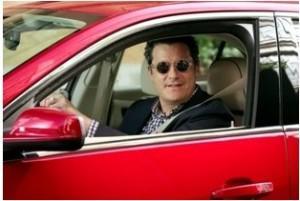 Isaac Mizrahi is creating a limited edition collaboration line inspired by the 2013 Chevy Malibu.  Talk about making zero sense whatsoever.
Yet, Chevy and Isaac Mizrahi  seem to lay it on thick in an effort to convince us that this is a marriage made in heaven.  Next thing you know it, Michael Kors will be doing a limited edition of Depends Diapers and Ralph Lauren will be creating a capsule sportswear collection inspired by Subway Sandwiches.
"If you look at the car, there are certain angles, lines, and thoughts that evoke ideas about clothes." Mizrahi told WWD.  Well, that's true but any good designer will tell you that they can get inspired by just about anything.  In fact, I had a designer friend of mine stick a bubble gum wrapper on the wall because she found the colors inspiring for a design project she was working on.  I've been inspired by a shopping bag before…anything is possible.  Yet, there is a big difference between inspiration a as a springboard for creativity and, "Hey, let's team up a well known designer with a car we're hoping to sell and somehow convince everyone that this makes sense."
Please don't insult my intelligence.
Watch as Isaac Mizrahi gush over this car and his collaboration and even try to convince himself that this 2013 Chevy Malibu is the best car ever.