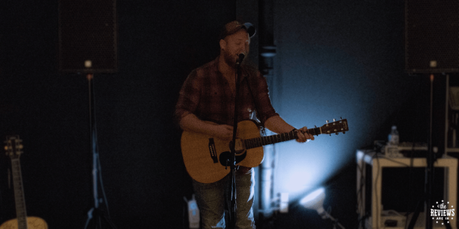 MDM Recordings unveiled a new member of their label family on Monday night at the Canadian Country Music Association office in Toronto, introducing a small group of us to TJ Miller.
The handful of us in the room had a chance to be up close and personal as Miller shared some his story and a few of his songs in a stripped down, acoustic performance that felt more like a living room gathering than an industry presentation. It was the kind of intimate performance that lets us get a real feel for the artist and who they are outside of big stage, big crowd, big lights shows.
What we saw on Monday night was a country boy from Langley, BC who didn't start in country. Miller told us that it was after he had decided to leave his musical life behind him to focus on charity work that he discovered his childhood favourite genre as a path for himself. As he picked and played on a porch in Guatemala, on a trip to build homes, it was country music that came through him. And when he told another member of the charity team that all he wanted was to continue to do good, the response changed his path.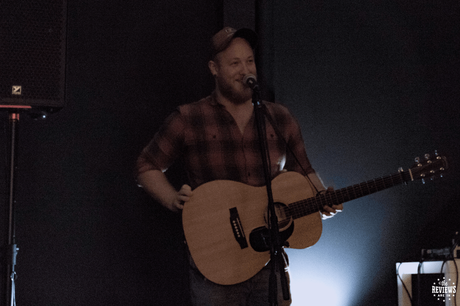 When he was told that maybe there was a way for him to use his music to expand his platform and spread his message, there was a click. The rest, as they say, is history.
In the time since then, TJ Miller has been writing and singing his country songs, gaining experience and pursuing his new goals and following his new path. Fans have seen him online, singing with fellow country artist Kristin Carter, and this fall he showcased at the BC Country Music Association awards weekend, giving everyone a taste of what he's been working on.
And now, with a new team, a new plan, and new resources, TJ Miller looks like he's ready to take the next step. MDM Recordings President, Mike Denney told us that they have a plan to help Miller in the behind-the-scenes artist development side of things as they prepare for new music and radio later in 2019.
TJ Miller is full of stories and songs, and he has a message to share with the world. Remember his name, you'll be hearing it again before too long.
TJ Miller, Showcase Setlist
🎙️ My Kinda Girl
🎙️ Like I Said I Would
🎙️ I Know Jack
🎙️ Stay
🎙️ Love Ain't Done You Wrong