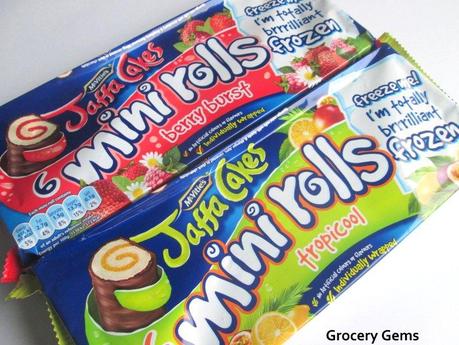 Following on from yesterday's post about the new Neapolitan Cadbury cakes, is another review about freezable Mini Rolls. This time it's McVities who have released their own version, under the Jaffa Cake brand. The new Jaffa Cake Mini Rolls are fruity rather than ice cream inspired and come in two flavours, Berry Burst and Tropicool.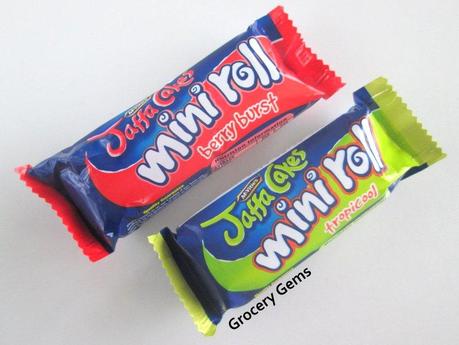 Just like original Jaffa Cakes, these Mini Rolls are covered in dark chocolate rather than milk and feature a fruity jam filling. Each cake has only 99 calories which is great for such a sweet chocolate treat.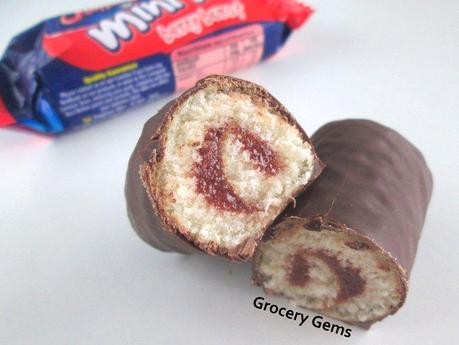 The Berry Bust is swirled with a strawberry and raspberry jam filling. Once frozen the jam solidifies slightly and gives a lovely cold burst to this snack. The cake itself retains it's soft texture, but holds it's shape better. The thin dark chocolate coating also becomes firmer and doesn't crack or crumble like it does when it's at room temperature. The flavours are all fairly simple but I still enjoyed these.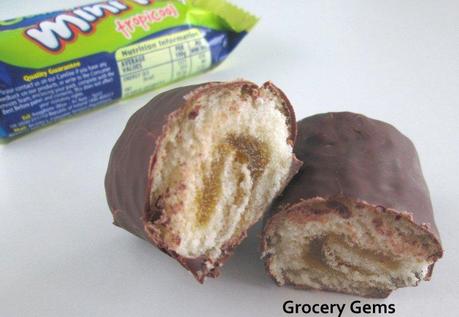 The Tropicool variety is swirled with an apple and mango jam filling. Texture wise these are exactly the same as the Berry Burst above once frozen. The inner jam has a vague mango flavor but it's not as tropical tasting as I was expecting (before I had seen on the packaging that it's actually apple!). However, they are still tasty and I liked the sweet and slightly tart filling here. 
Overall, we all enjoyed these Mini Rolls and it's good to see some new flavours from Jaffa Cake rather than the usual orange center. 


Grocery Gems Verdict: Jaffa Cake Mini Rolls:




Rating: 8 out of 10 (extra point for having 6 in a pack!). 
Buy Again: Yes.
Nutrition: 99 calories.
Vegetarian: Yes.
Purchased: Available at most supermarkets. I received them in the latest Degustabox (see here).