Hello buddies. Hope you are doing great. Lately, I have been really irregular with the blogging because of studies and workload. So, today I got some time off and here I am! I have been thinking to quit blogging altogether since I am unable to do justice to my blogs. The thought has hit my mind several times, and I just keep bouncing back to this place after several weeks. I guess you are not going to get rid of me any sooner :p
Okay, so today I am writing a review on McDonald's Grilled Chicken Royale Burger that was launched in my city on 27th March, 2014. Given all the hype about the burger, I definitely wanted to try it ASAP. You see, I am a frequent visitor to McDonald's. There are several reasons for that. Firstly, I love burgers and there is no other place in my town that serves decent burgers. McDonald's is just across the street from my college, and so are Pizza Hut, KFC and Domino's. But it's not just about food. It's about the way I link to McD. The atmosphere is lively and jazzy. I have spent some of the happiest moments of my life at McD and so I feel connected to the place.
McD's menu has always been very limited, especially the burgers. However, in last couple of years it did introduce the spicy range of burgers and wraps, one vegetarian and one non-vegetarian of each. Unfortunately, I was disappointed with the spicy range because it's just not spicy. It was not even close to the existing range of burgers and wraps. Last year, in May came up the new Chicken Masala Grill Burger. But again, nothing extraordinary about it. The spicy sauce was a new addition while the chicken patty was the same old one they use in all other chicken burgers. I have sensitive taste buds, and if something were significantly new about it, I could tell.
Since then, I was waiting for something exciting to come up on McDonald's menu. And last month I thought it was time! I entered the McD to order something from the usual stuff but then a huge ad placed near the entrance caught my eye. It featured an insanely delicious looking burger, where all the ingredients were perfectly stacked in layers one upon the another. It said, there were two chicken patties, two chicken cold cuts, lots of salad leaves, a couple of fresh tomato slices, topped with mayo and packed between two cornmeal dusted buns. So, I just went for it.
I wish I could take pictures, but I was unaware of the ways of my mind and that it would abruptly feel like putting up a review here. Hence, no picture. But I did manage to get one from the McDonald India's site for you to look at. Nevertheless, don't let the good looks deceive you. The burger was nothing like what it looks in the picture. The patties weren't so chunky. They were pretty thin. Almost as thin as you what you get in Chicken Maharaja Mac. The chicken cold cuts were a brilliant addition though. I had never had cold cuts before, so I kind of liked it. It did have a smokey flavor and tasted good enough. There were indeed lots of salad leaves, a couple of tomato slices and an ungenerous dash of plain white mayo.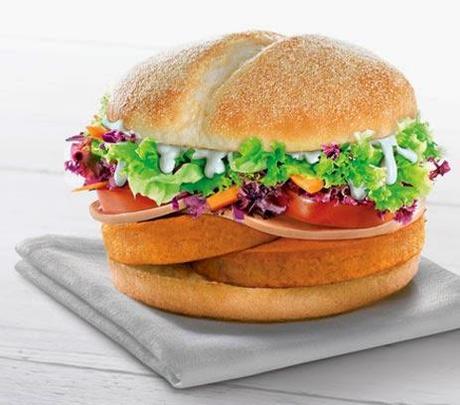 Picture Source - McDonald India
The first bite I took did give me a momentary nirvana. The hot patty and cold cuts lent an amazing combo of texture and taste due to the extreme temperature variation. The hot and cold chicken did feel good for a while. The cornmeal dusted buns were nice and fluffy. But you do need other things on a burger to make it a good one, which Chiken Royale clearly lacked. There was no cheese slice and the plain mayo could do nothing to amplify the taste. Again, I was kind of let down. Because it was a whopping INR 135 (Taxes extra) that I just spent on a below-average burger. I finished my meal halfheartedly and the burger didn't even leave a sour taste in my mouth. Pun intended!
Later on I went to at the counter just to inquire if they replace they plain mayo with some spicier sauce. They said they do, and they charge INR 16 just to replace the sauce. I mean why charge extra? We want the sauce "replaced" and not an extra sauce added. So, that seemed unjustified to me.
Here is the verdict!
The Good
The fluffy cornmeal dusted buns. I think they are better than the regular sesame buns.
The chicken cold cuts lent a good texture and slight (very slight) smokiness.
The salad leaves gave a nice crunch to the burger.
The Bad
Chicken patties were too thin. Nothing like what the pic says. I mean really thin.
The chicken patty has no new flavors. It's just the ones you get in McD's other chicken burgers which are less pricey.
Plain mayo does no good.
Lacks cheese.
Costs a fortune.
Rating - 2 out of 5
For me, Chicken Maharaja Mac still wins. I would rate it 3 out of 5. It has the same old chicken patty but there is a third slice of bread, a tangy tartar sauce and a cheese slice to make up for the drabness. And it comes at INR 99 (Taxes extra).
That's all for today. Hope to see you guys again! Till then, I am signing off! Have a great week ahead.