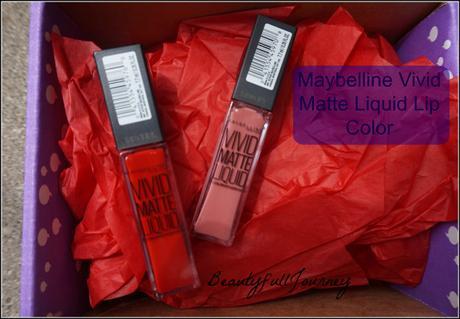 Hey everyone!
How are you all doing today? It was hot as high as 95F last 2 days here, and now it is raining crazily! Ah, well!
I've been using these Maybelline vivid matte lip colors since around 3 weeks now. And I'm sharing my experience with you guys now, it's not exactly a full detailed review, but a small post about what I liked and didn't like about these!
Do you guys know about Influenster? I think I've spoken about it here a couple times before too. They send you products for testing, and you don't need to be a blogger for this. It works on your social media score and how active you are on their website and discussion forum. They even have a cool app now, where you can instantly read and write reviews. And no they didn't ask me to talk about them at all. It is upto me to review or not to review what they send me, so here I am telling you guys how I liked these Maybelline lip colors
These days, liquid lipsticks are all the rage, and I too am loving them. These ones in the Maybelline vivid matte range come in a lot of shades. They're liquid lipsticks, with a thick creamy consistency. Very easy and smooth to apply on lips. They're not lip glosses, as many people confuse the two!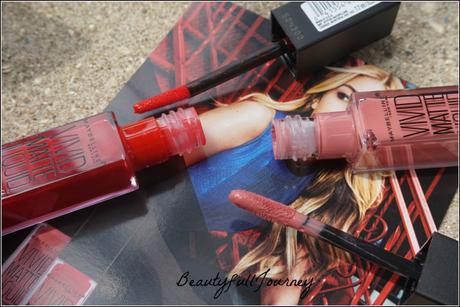 They come in a pretty sleek packaging and have a sweet pleasant scent.
I received these 2 shades –
Rebel Red – is a pretty red shade, with bright pink undertones.
Nude Flush – is a pinky nude. Although on me I find it looks a bit washed out.
I wasn't able to click proper good pictures of these with my camera, so I'm showing you casual selfies from my phone. The colors you see in these are quite close to how they look on me.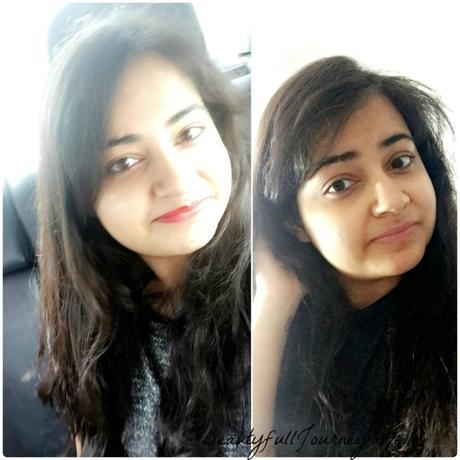 Initially I was quite disappointed with these as I expected them to be completely matte. But once I played around and got comfortable with the ways to apply them, I figured out what works best for me.
These can basically be used in 2 ways –
Firstly, applying just one swipe gives a soft matte finish.
Second, layering on twice or more gives a creamy, moussey finish.
In these pictures, I used them lightly, and did not add additional layers of the product. I liked using it just like that, and not heavily.
Applying more layers made it thick and it was getting transferred easily to everything my lips touched, like even hair or glasses or cups etc. I don't like that at all.
So for me just one swipe works great and looks pretty!
Although, I would still mention that they never really dry completely on the lips! Their basic consistency is very creamy and even applying lightly wouldn't ever give a truly matte look. It just comes on as soft-matte(is that a term? Or I just made it up?).
I think if you don't like wearing a complete matte lip and also don't want a glossy look, these would be great for you! I go from full-on matte to shiny lips depending on my mood, so this often fits in somewhere in between!!
Have you guys tried these? What is your favorite liquid lipstick? Do let me know in the comments.
You can also connect with me on my social media accounts 




Love you guys,
Muaahh
Poorva
P.S. I received these products complimentary for testing purposes.