Maybelline HyperGlossy Liquid Liner Claims:
Intense Black Color with high shine finish Easy to apply.

Gives complete control for sleek or thick bold line 24HR wear.

Smudge proof formula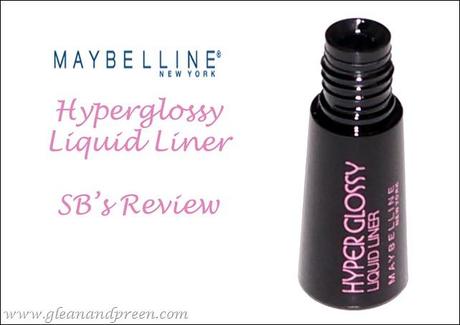 Price:
225
INR for 3gm
Shelf Life:
2.5 years  

My Expectations:
When it comes to liquid liners I have shaky hands so I always stay away from them. The Maybelline HyperGlossy Eyeliner is an impulsive buy as I got lured by the word 'HyperGlossy'.  I am a big fan of intense liners and I personally feel gel and pencil eye liners cannot give the intensity a liquid liner gives especially when it's wet. So I had to buy this and obviously I am expecting wet glossy intense effect even after the liquid liner dries.    
Look & Feel
Package: Sleek, stylish and travel-friendly. It just fits into everything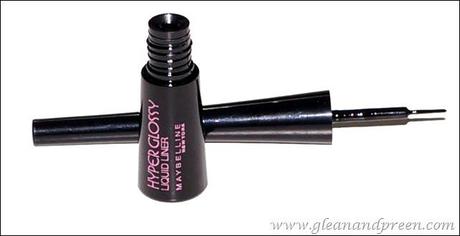 Shade: BLACK. A very intense shade of black.
Applicator: The brush is very thin and light to use but I am not so convenient with the long handle. But, again it's a personal preference.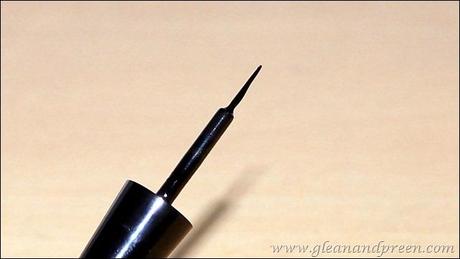 Texture: Smooth liquid with the right consistency to draw lines without clumping. Once dried the eye-liner feels a little stretchy on the lid.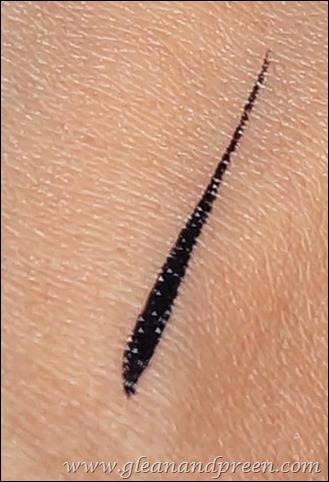 HyperGlossy Liner Effects
Drying Time? Just in seconds. It keeps drying even while we are applying. But again I do take a full minute to finish with one eye. No other choice I am bad with liquid liners

Smudge Proof? Yes totally.  For me, all the eyeliners usually smudge at the inner corner but this stays intact.

Finish? Intense dark liner with a glossy sheen. The quality of the eye-liner is fabulous and it does exactly what it claims. But to be honest I didn't like the glossy liner on my eyes especially if I am going for a thick line. I just like to use this eyeliner to draw outer wings.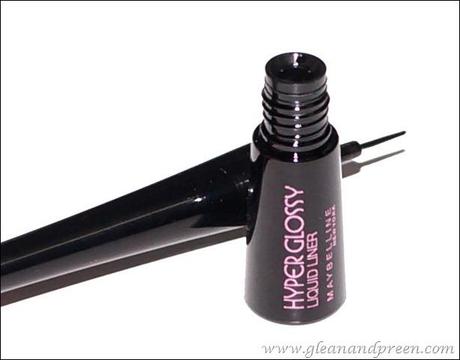 Water Resistant? No. But it doesn't bleed too. It peels of neatly and I actually love this quality as I don't have to use any makeup removers separately.
Lasting Power? Till next face wash as it's not water resistant. But other-wise the effects lasts for almost 7 hours.
Cost Efficiency: Worth every penny.
Final Note
  Maybelline again does an awesome job in bringing quality eye-liner at an affordable price. This eye-liner is really a good buy if you want to try glossy liner. The only downside is the slight stretchy feeling it gives with thick lines.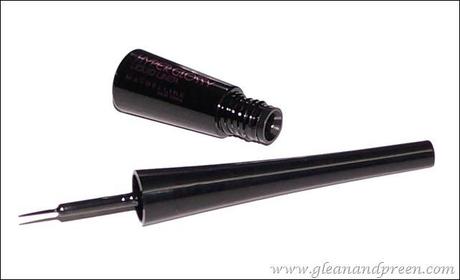 Dear Readers: Let me know your opinion about "Maybelline HyperGlossy Liquid Liner" in the 'Will You Buy It' section and share your feedback about the review through comments.
Did you check out the Ongoing giveaway?
Win free Kryolan TV Paint Stick in 303
Click to Enter: http://www.gleanandpreen.com/2013/03/sbs-monthly-favorites-giveaway.html