Hello lovelies! 

How is everyone doing, given these crackling hoarse winters are behind our lives? Especially DILLI KI SARDI—man, I swear I'll die if the temperature falls down even by a degree now! Nut on the other hand, there are brands like Maybelline who make these gloomy days all the more cheerful by introducing new products almost every month, or once in two months now! Good going Maybelline! And along with Maybelline, then there are noble souls like Jhilmil mam who keep me warm in this chilly time with the love and pampering! Yes, yes! She again sent me this lovely new release from Maybelline, and the loyal blogger I am—I am sharing the love with you beauties!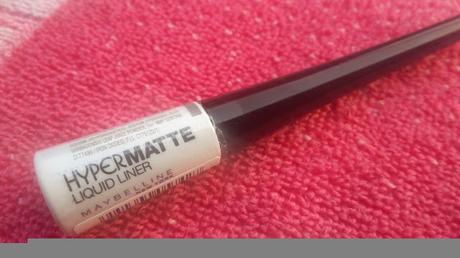 What Maybelline has to say?Stepping up the matte trend from lips to eyes, Maybelline New York introduces the Hyper Matte Liquid Liner. This first-ever matte finish liquid eye liner comes in a dip-in brush format and gives the most intense, 24 hour long stay lines. The slim brush has an elongated, well-rounded applicator for ease and comfort in application and gives the perfect amount of product for precise lining. The liner is smudge-proof, water-proof and also heat-proof. Now get ready for an explosion of the purest, blackest, matte-est matte in 20 seconds flat!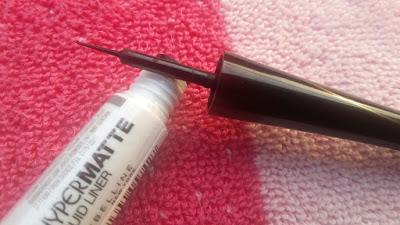 Price: 325 INR
Buy it here
Packaging and Applicator:
If you have had the hyper glossy eyeliner from Maybelline you most probably know what you are into! I mean I haven't used much of that eyeliner as I already found my HG liquid eyeliner, but I know people who use it religiously and swear by it! So similar to the hyper glossy in terms of looks and size, the only difference lies in the body colour! While the hyper glossy version comes in a glossy all-blac pagaing, the hyper matte comes in a matte black and white packaging! Though the applicator is the same long and thin one which gives a very precise application and also picks up limited product! The liner itself being not too runny greatly complements the applicator!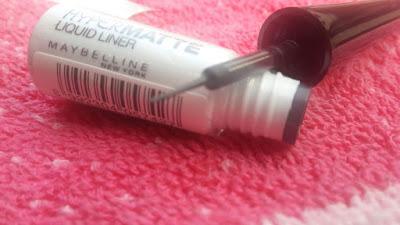 Colour and Pigmentation?
The eyeliner comes only in one shade as of now and that is the conventional black! Is it a jet black? Yes, it definitely is! Is it the best out there? I'll say I have seen and used better! So there is no problem as such with the shade of the liner, but from experience what I feel is that the pigments in the liner are not the blackest of black and not something which any jet-black liner lover will adore! Thought the pigmentation is fairly nice and one swipe gives you a nice black line on the lids!
Matte or not?
Yes, yes, yes! Though not a pure matte eyeliner, but it has a very delicate soft-matte or say semi-matte kind of finish which makes the eyes look super sultry and oh-so-sexy! I especially love pairing this up with a bright pink lip and I am all around the place—raving! Literally!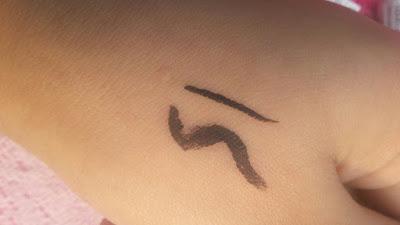 Staying Power?
This is where this 325 bucks worth of bottle fails to keep my spirits up! It has the worst staying I have ever witnessed in any liquid liner! It flakes, it scrapes off and scrubs out so un-evenly—I cannot even begin lamenting! It hardly stays for 3 hours after which it starts transforming from a black to a dark gray and keeps on fading and finally starts peeling off! Very weird!
Why I like it?
-semi-matte finish
-nice, thin applicator
-sets on the lids within 15 seconds
-gives a nice black line
-affordable
-easy to apply and remove
Why I do not like it?
-less quantity
-fades off pretty soon
-not the blackest of the black pigments
-wears off very unevenly

Will I recommend?
If you are anything like me and just like going out there and buying new product launches every now and then, then at this price you cannot miss this eyeliner! But if you are planning to buy this on account of ending your search for your HG eyeliner, you can give it a pass! It is not going to do you any good!
J
Rating: 4/5
By Ishleen