Guest Post By Pallavi Bose
I am not a girl who uses foundation on daily basis. Actually, foundations keep lying in my makeup stash unused or half used. On daily basis, I apply only general day and night crèmes and BB or CC creams. On special occasion only I apply foundations that too in a very little amount. So, foundations are hard for me to finish by. But seeing a new foundation to be launched in the Indian market and whole of the online marketing and all your favourite blogger are raving about it. Then who can resist the charm of buying it??? I cannot for sure.
So, when Maybelline came up with their new fit me range, the whole online fashion circle got crazy about it. They have launched foundations, compacts and many other things under this range. I was really tempted and my old stash of foundations was coming to close now. So, I thought why not try with this new baby - Maybelline Fit me Matte + Poreless Foundation and here follows the review of the same.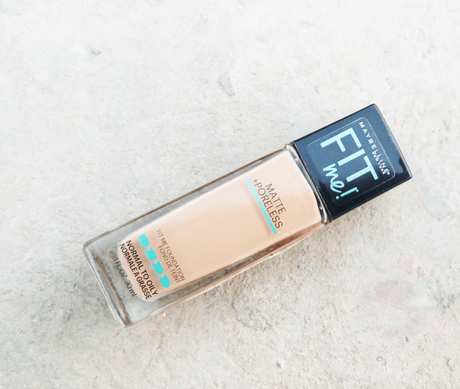 Product Claims
Flawless. Fresh, breathing, natural skin. Shade-true gel-liquid foundation. SPF 18*. New shades formulated for women of colour, with 5D Pigment Technology. It's face makeup that fits you. No oils, no waxes, no nonsense. Natural, light to medium coverage that leaves skin the way it was meant to be. Fresh, breathing, flawless. Exclusive translucent base and lightweight pigments allow skin's natural highs and lows to show through. New shades formulated specifically for women of colour contain revolutionary 5-D pigment technology to balance your skin's natural tones and highlights. Available in 18 Breathable Shades. SPF 18*
Price : Rs. 525
Shelf life : 24 months from the date of packaging
Directions to use : Wash your face with a gentle face wash and let it air dry. Now, begin with applying a primer or light moisturiser on your face. Then take a pea-sized amount of foundation and apply it using a makeup sponge or beauty blender. You can also apply the foundation directly on your face and blend it using your fingers.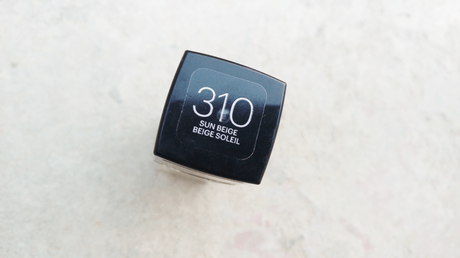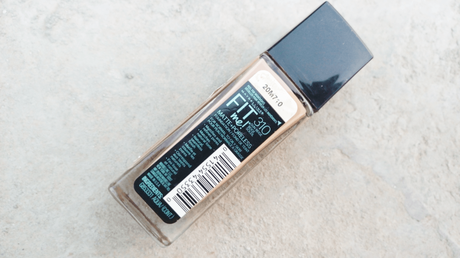 My take on the product
Packaging / Availability: The Maybelline Fit me foundation comes in a pretty glass packaging which has the product name and other minimal details written over it. The bottle is transparent and made of thick glass. The bottle will easily break down once it is dropped so make sure that you handle it with care. The bottle does not come with any dispenser or pump packaging. So, you need to tilt the product to get the foundation out and you cannot control the amount of foundation which is required or which comes out. Also, the foundation being a thick liquid it is difficult that it goes into the jar again. That leads to product wastage which is a huge minus for me.
Shade : The Maybelline Fit me foundation shade which I chose is sand beige. I am W42 in Mac and in this way I find this shade is fine for me. It is exactly my skin colour a bit lighter. So, when I spread it on my face it looks my skin only but more polished and clean and refined and all those good things.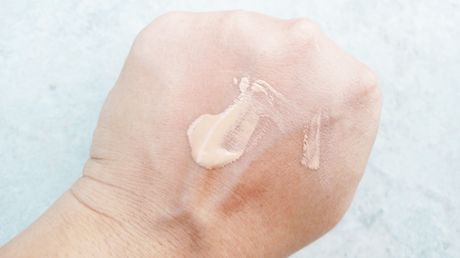 Consistency : The Maybelline Fit me foundation is a bit thicker and so don't even think of applying it on your face directly. Dilute the foundation with a bit of Gulab Jal and then mix it and spread on your face. Also, if you apply the foundation directly then it can be a bit drying on your face. And it can also leave skin freckles and all. So, apply a moisturising primer underneath. And if you are the one with oily skin then no need of primer for moisturization part just go with any normal primer.
Finish : The Maybelline Fit me foundation has a matte finish. It sets on completely matte. So, I think people like me who like dewy skin finish will not like it that much. But you can always make it work around with some makeup fixing spray which will give you a dewy finish. The foundation stays on for pretty long.
Under AC environments it stays on for easily 10 hours. In humid, conditions it can survive for 6-8 hours. It controls the sweat and oil on your face. But it not waterproof so after washing do not expect it to be on your face. The coverage of this foundation is lighter to full. You can build up the coverage as per your choice.
Rating : 4/5
Final Recommendation :
For me this is a good foundation for everyday wear. It can easily replace your BB or CC creams if you are looking for a fuller coverage in terms of your problematic skin. I give the Maybelline foundation a thumb up and it is in my "must try" list.