Hi, guys sorry for being away from blogging. I am just trying to settle with my new job and I am also creating some useful post for you guys which will take some time. In today's post,I am going to review The Maybelline Diamond Glow Eye Shadow palette. It is the first eyeshadow palette that I used when my love for makeup has just begun. The Palette comes in three shades copper brown, wine pink, and grey-pink. The shade i am going to review is Wine Pink.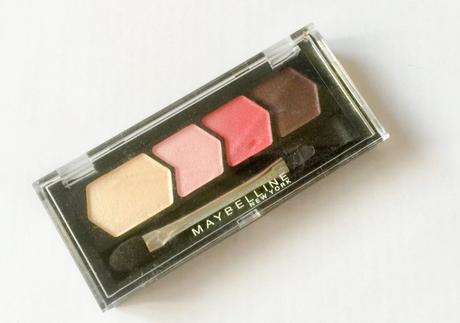 Product Details
Make the four perfectly harmonized shadows of Maybelline Diamond Glow Eye Shadow your eye makeup essential and handbag essentials. The sleek eyeshadow palette of shimmery metallics, buttery mattes, and lustrous sheens are made with advanced pigments that allow true, instant color payoff, and long-lasting plush performance. So go ahead play and become your own style eye-con.
My take on The Product
Packaging: Maybelline Diamond Glow Eye Shadow come in a sleek rectangle shaped palette. The eyeshadow palette has a transparent plastic cover which makes it easy to see the four shades. The Maybelline palette comes with a small eyeshadow applicator which to be honest is of no use. The palette is delicate and fragile to carry around.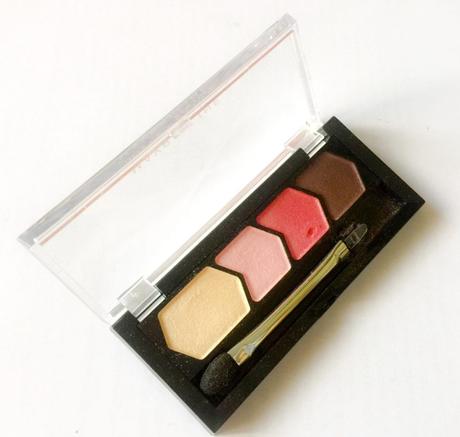 The first shade is the lightest (beige champagne) of all and can be applied to the eyelid and inner corner.The second shade (baby pink) is slightly darker than the first one and can be applied to the entire eyelid with an eyeshadow brush.The third shade (dark yellow based pink) is darker than the second shade and can be used as transition shade or as a crease shade.The fourth and the last shade is the darkest shade (purple with grey undertones) in the eyeshadow palette which can be used on the outer corner of the eyelid as well as to the lower lash line.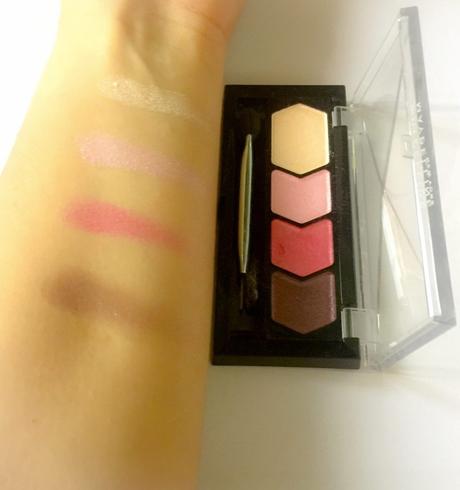 Pigmentation: The product details claim that the eyeshadow is creamy in texture however, they not at all creamy. They are lightly pigmented and do not give an opaque finish. You have to apply a lot of layers to get the desired shade. Even the darkest shade has poor pigmentation. The eyeshadows have shimmery particles which tend have to have a fall out during application.
Staying Power: If you have small and oily lids like mine then without the primer the eyeshadow can go on for 3 hrs and with the primer max 4 hrs after which i can only see the shimmery pigments.
Is the Maybelline Diamond Glow Eye Shadow worth a buy? : The answer to this question depends on what your needs are and what is the purpose behind buying this eyeshadow. Firstly, if you are new to makeup and want to get your hands on to something affordable this is a great buy.
Secondly, If you love matte shadows and you are already good at makeup then this will be of no use to you.
Thirdly if you want glitters and shimmers for your matte eyeshadows then you can keep this handy as they have four shades at one go.
The Maybelline Diamond Glow Eye Shadow is a great buy if you are beginner in makeup as it's very affordable and easily available.