Hello People!!!!! Today I am going to share my  experience and review of the Maybelline Bold Mat 4.
Product Details
Description
Offering 5 trendy shades in a brilliant matte texture, these lip colors look and feel great on your lips. Let your lips, speak volumes with Maybelline's 1st matte lipstick in India. Enriched with rosa canina oil and jojoba oil for a moisturizing effect .Contains honey nectar which has a hydrating effect. Has powderless matte pigments for attractive, vivid shades
Price
INR 375
My Take on the Product
Finally, I got a red hot lipstick from the Maybelline Bold Mat 4 a few months back. Have worn this color a couple of times, so now I can review it for you guys. I  love the concept of matte lipsticks, especially in bold shades of red. Since long i am on a hunt to buy scarlet red colored lipstick, which I still have not found and my hunt is still on :P. The Maybelline Bold Mat Range has lovely hues of pink, orange and red. I picked up the Bold Matte 4 as per my skin tone. It comes in a sturdy packing with a red matte full cover cap.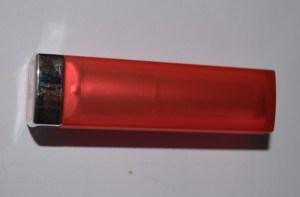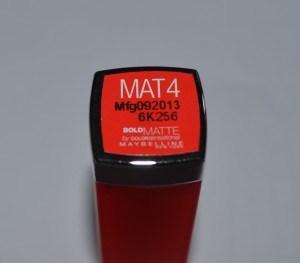 As the name says it all, the lipstick has a matte finish, no shiny particles (what a relief). The lipstick being matte glides smoothly on lips and is not very heavy after wearing. It is not completely matte, its 95% matte and 5% shine if you closely observe. The lipstick does not feel dry nor does it make lips dry, pretty good at moisturizing and hydrating lips.
The color of the lipstick is a deep fiery red, with an undertone of orange in it.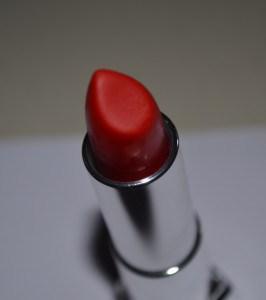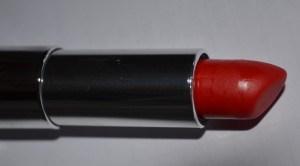 The Shade looks deep matte here, but after wearing it looks bright and little orangy.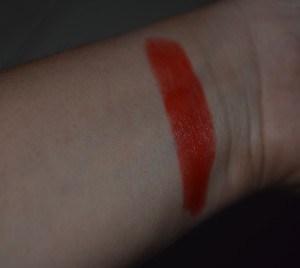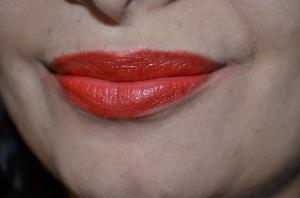 The bold matte has really different and tricky shades, so for this range always buy the shade that will suit your skin tone or else it can make you look really funny. This shade will suit only medium to fair skinned girls. It is not meant for dusky beauties, you can try out the other Matte shades.
The color of this lipstick is highly pigmented and as I said it all depends your skin and lip pigmentation also. I apply at least two swipes of the color to get the desired finish. I really love this color and of course more because it has a matte finish. The shade stays on the lips for at least 4 hours, you cannot expect a shade to last longer considering the climate and the activities involved in a day. The lipstick is not meant for office wear. You can apply this lipstick in day time with minimum make up and for night wear you play around with this color and a black kajal. 
Pros
1. Matte Finish
2. Stays on for at least 4hrs
4. Available in stores and online
5. Odourless
6. Keeps lips decently moisturized
7. Pocket friendly and sturdy to carry around
8. Highly pigmented
Cons
None so far!!!!!!!!!
Rating:5/5
Overall Verdict : It's one of the best bold mat red you can get at an afforadable rate.
More from my site
Maybelline Glam Lip Polish 7 Review

My Maybelline Haul 2014

Maybelline Colorsenstional Moisture Extreme Lipcolor- Coral Pink

Sally Hansen Lip Inflation Extreme in Shade Clear 22 Review And Swatches, LOTD
Zemanta