Hello my lovely friends,
This is my last post for the year 2015. I am so looking forward to 2016 in a positive way especially since last 3 years have been so difficult for me. Winters are here in Mumbai not freezing cold like other parts of India and the world but cold enough for us to say it is winters.A lip balm and body lotion is a must have for everyone and that goes for me too. I have to say Maybelline makes one of the best lip balms and is rated no.1 according to statistics - I agree to that. A while ago Maybelline India had sent me their newly launched Maybelline Baby Lips Candy Wow in Orange which I really loved, you may read the review here. Today I shall share my review of Maybelline Baby Lips Lip Balm in Watermelon Smooth which is from their regular line and is my favorite since I have been using it everyday. Read my review to know more and my experience using it....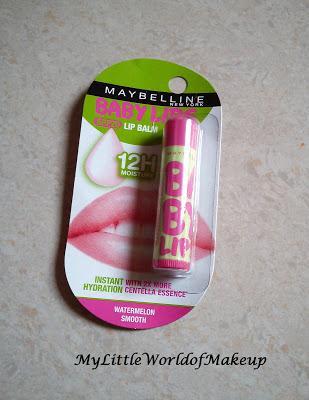 Price: Rs.165/- for 4g. Available across India in stores and online here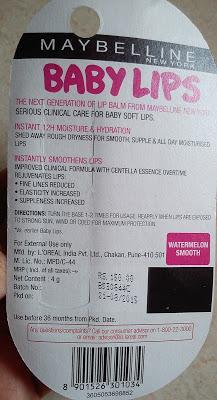 What does the brand claim:
Flaunt kissable, baby-soft lips with Maybelline's Baby Lips Lipcare lip balm.
Baby Lips Lip Balm is now 'Product Of The Year'
This lip-renewing balm offers sun protection and keeps your lips moisturized for up to 8 hours. Within 4 weeks, you're sure to notice a difference in your lips!
Here's why you'll love it:
• Enriched with SPF 20 to provide sun protection
• Moisturizes lips for a full 8 hours
• Visibly renews lips within 4 weeks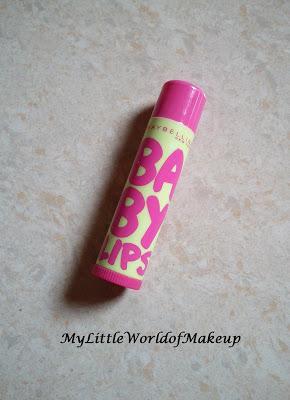 The lip balm comes enclosed in a cover which is good as you know nobody may have messed around with it. All the basic information is printed on the carton which eventually you throw out.
The lip balm comes in a regular chapstick format which is what I like.It is a light green body with baby lips written in pink on it.No fuss and easy to carry in your handbag while traveling.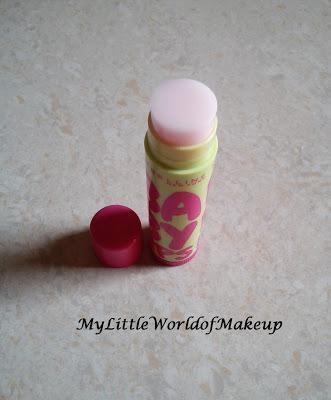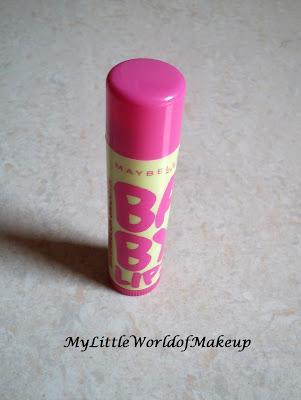 Maybelline is my favorite brand for their products and the fact they are easily available to the common masses and affordable too. They do launch new range of lip balms regularly liked their Spiced up range and Electro Pops and now their Candy Wow range. This lip balms features in their regular line and I like that it is not tinted and clear because you cannot sport a colorful tinted lip all the time and I prefer clear chapsticks more over colored ones.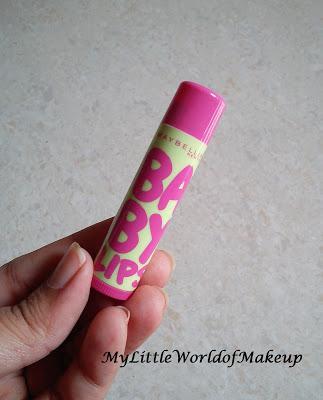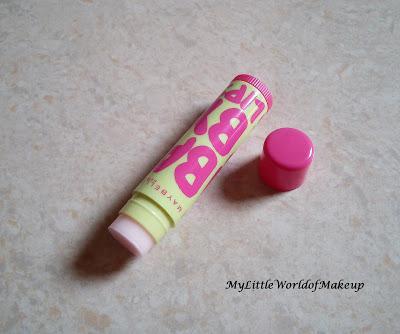 The lip balm has a faint watermelon scent to it and goes on clear & a bit glossy.The lips feel smooth post application especially when you rub them against each other.The lip balm keeps your lips soft and moisturized until 4 hours - the shine wears off but you can still feel your lips as soft & hydrated.It can be worn under or over a lip liner or lipstick. It has SPF 20 which is an added bonus hence you need not worry about going in the sun as it does protect your lips. After few hours you have to reapply and I do not find that to be a con. Overall I love it and will repurchase it for sure.
The Good:
Easily available
Inexpensive
Cute packaging
Heals & protects chapped lips
Contains SPF 20 for sun protection
Smells mildly like watermelon
Makes lips soft and supple
Can be used over and under lipsticks
Travel friendly
The not so Good:
Ingredients not mentioned
Rating: 5/5
Maybelline Baby Lips Lip Balm in Watermelon Smooth is my go to lip balm this winter season. It hydrates, smoothens and moisturizes the lips while having SPF 20. So say goodbye to chapped and dry lips and hello to soft and smooth lips. I highly recommend this one ☺
I hope this post was informative and useful to all those reading. Please comment below with your inputs and let me know if you have tried this variant before???
Until next time.. Have a lovely 2016 ♥
Happy New in Advance to all those reading. Enjoy & God Bless you all ♥♥