I once had some trouble transferring email addresses to a new computer– which inspired this cartoon: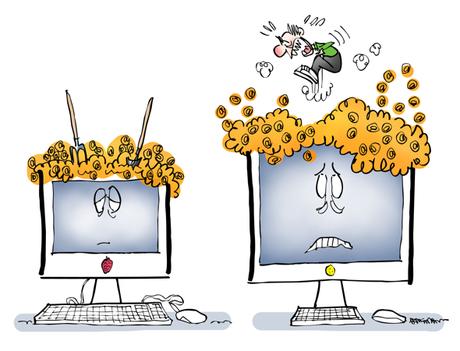 There is, of course, a
procedure
for doing an address file transfer to a given computer. All it takes is some online research and a little patience. OK, and maybe some aspirin… 😊
But it's tempting to opt for muscle over research, patience, and finesse.


Marketing and sales strategist John Graham warns against trying too hard and being unprepared.


If prospects feel pressured to make a decision, they'll say no in order to escape.
You have to be prepared in order to explain how your product or service will help the customer– which means researching prospects, talking to them, understanding their problems.


Mr. Graham cites another route to failure: refusing to learn new things.
Barry Farber
would call that
having a poor work ethic.
And/or a poor homework ethic. He mentions an old truism: Hard work beats talent when talent doesn't work hard.


Entrepreneur
Adam Honig
makes this sobering statement: "Possibly the biggest reason why some people don't last long in sales is that they never
embrace
their profession."
The best marketers and salespeople love what they do– and that includes researching prospects and their problems.