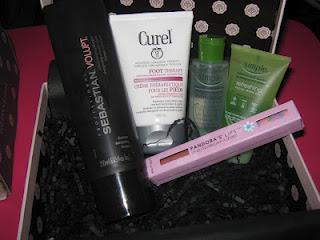 My May box was late and after a hassle of contacting customer service I think this will be my last one, they've decided to stop taking paypal and I had to hunt down my box because it was 'cancelled'.
Anyways! Here's what was in my box this month:
Curel Foot Cream - $3.99
Simple Eye Makeup Remover - $9.99
Simple Facial Gel Wash - $9.99
Pandora's Makeup Lip Gloss - $16.00
Sebastian Professional Volupt Shampoo - $15.78
I am very happy with the products in my box and it's definitely worth it. I paid $15 for the box and got back my money's worth PLUS a lot more! Unfortunately I don't own a credit card so I will have to cancel my subscription.
You can click here to sign up for GlossyBox. You won't regret it, I promise! The value of the boxes are awesome and the products are great! You can use the code 'glossy27' to get 1.50 off your first order!