I love reading empties posts, I figure if a blogger finishes something it must be really good because they usually have a whole pile of products.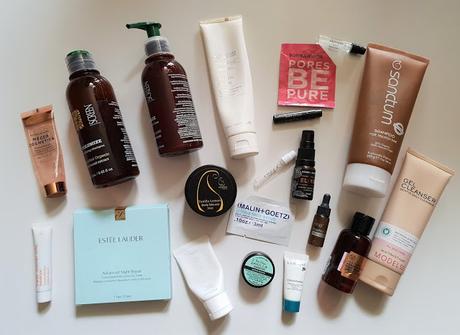 Mecca Cosmetica Transforming Facial Cleanser
It was almost love, but not quite. I love how well this works, I love the smell and the way it leaves my skin feeling. What I don't love is that despite being okay to use on the eyes, it stings the crap out of my eyes. For this reason alone I won't repurchase. 
Screen Volumise Shampoo and Conditioner
I found these at Priceline for $5 each. They're organic and sounded too good to be true. I've now discovered why they were so cheap. They do not smell good. It's not awful, but it's not nice, not at all nice. Thankfully the scent didn't linger and was gone as soon as I rinsed the product off, but it's a deal breaker. 
Sanctuary Spa Warming Microbrasion Polish
I don't think Sanctuary Spa is available in Australia anymore, which is a shame because they had some lovely products, the Microbrasion Polish being one of them. I really liked how fine the scrub was and the warming sensation was strangely lovely. 
Sanctum Shampoo
I've lost count of how many times I've repurchased this shampoo. It's a lovely, gentle product that doesn't weight down my fine hair.
ModelCo Gel Cleanser
I really enjoy this rose scented cleanser. I pick it up whenever it's on sale. I use it as a morning cleanse, however it also works well to remove make-up. It's gentle on my skin, doesn't irritate my eyes and smells beautiful.
Kate Sommerville ExfoliKate
If only this wasn't so expensive, I'd be buying a full size tube tomorrow. I just can't justify spending over $80 on a face scrub, no matter how good it is. 
Estee Lauder Advanced Night Repair Eye Mask
I quite liked the way my eye area looked after I used this, I'd like to buy more and use them over a few months to see what the results were. 
Meeno Organics Vanilla and Lemon Body Mousse
If you need a natural, super hydrating body moisturiser that smells heavenly, look no further. My dry legs loved this, it's such a beautiful product. 
Kora Organics Hydrating Moisturiser
This is another one of those products that I like but am not willing to pay the high price. There's nothing amazing to make it worth paying $59.95 for a 50ml tube, it doesn't even smell nice. So, whilst I enjoyed using it, I won't repurchase.
Black Chicken Barrier Booster Deodorant
There are only a few bicarb free natural deodorants that work and this is one of them. I'll always have this one in my collection. 
Herbs 'n Heart Elixir
I enjoyed using this serum, it kept my skin nicely hydrated. It didn't do anything other than provide hydration, so I won't repurchase.
Lancome Visionairre
Nice. Not amazing.
The Body Shop Spa of the World Adriatic Peony Body Wash
Love, love, love this beautiful scent. It's a definite repurchase, however I'll buy the full size next time.
I've been madly getting rid of things this month. Most of them aren't shown as they've already been given away. The ones shown below are going in the bin which is why they're pictured.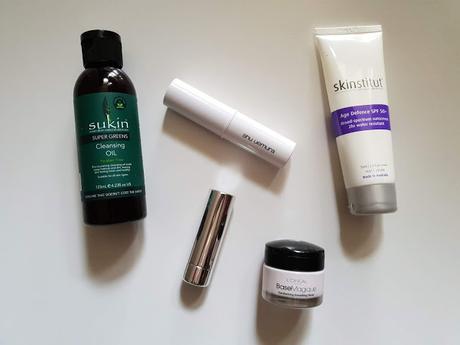 Sukin Super Green Cleansing Oil 
I really wanted to like this but I don't. It smells lovely but it's so thick. It doesn't emulsify when water is added so leaves a film all over my hands and face. Even if I use it as my first cleanse it still leaves a film that's really difficult to remove. 
Shu Uemura Nobara Foundation
The only reason I'm getting rid of this is because it's very old. I purchased it before I had Chai. He's 7. Enough said.
Skinstitut Age Defense
I love all the other Skinstitut products I've used, but I don't get along with the sunscreen. It's very thick and irritates my skin. Due to it being so thick I can't use it on my body. I thought it might be okay for winter, but it's too irritating so out it goes. 
Becca Lip Balm
This expired in 2013!
L'Oreal Base Magique
This is another really old product. Really old.