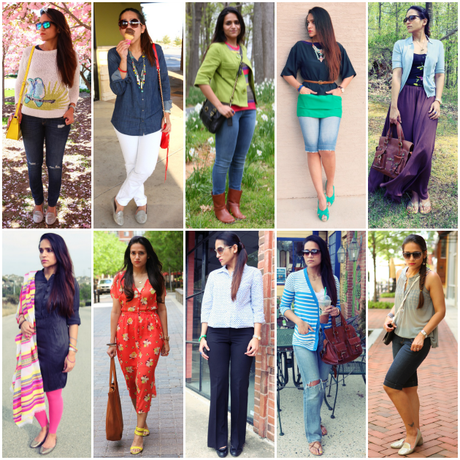 Top Row: 1 / 2 / 3 / 4 / 5
Bottom Row: 1 / 2 / 3 / 4 / 5
This has been such an exciting and fun month. I am loving the change in scenery. I am loving the influx of weekend activities and socializing. Let's just say, I am loving everything.

Well, not everything but that's for another post. But mostly everything!

(;
Sartorially speaking, it doesn't get any more diverse than this. Am I right? We had a little bit of everything. This was the most popular outfit post (

not surprising at all!

) and

this

was the least popular outfit post. Also, I am glad that the "Three Ways" series is being well received. I am enjoying putting it together as well.
Just in one month I have been to DC/Georgetown and Annapolis VA, tried possible 20 new restaurants, met several bloggers, hosted lunch and hung out with friends and family. (Phew!)

 
June is potentially looking very exciting as well. Follow along on Instagram as that's where I share most of my daily-life-snapshots.
I hope May was equally exciting for y'all too. See ya next month aka tomorrow (;