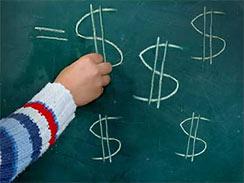 What tactics make a school fundraising event excel for some schools while others bring in little?
 Getting your team on the same page
Every school fundraiser needs their students to participate. If the students are motivated enough to see that their efforts help the team then results come in. It's important that teachers find ways to keep the students motivated with prizes for highest sales. If the students see the reason to put the effort out gets them recognition or prizes you'll see an effort on their part ( check out our post on Getting Kids Involved With School Fundraising for more tips ).
Clearly Defined and Updated Goals
Every student and teacher need to know the amount of money they are aiming for. Students need to know what their personal goal is. During the course of the campaign have a visual marker like a thermometer that shows the progress made. This keeps people motivated and the purpose fresh in their mind.
Selecting the right product
What products will get you the highest return on your investment? What hasn't been sold previous years in your area? What price point will people in your area become uninterested?
Advertising
While putting up signs in your school for your fundraising event is a given there are other ideas that can be used for more exposure. Local papers can be used to advertise your cause; these papers set aside a portion of their advertising for charities and fundraisers for free. Local universities have radio stations will interview you and put on advertising to help spread the word. Local TV stations will put your ads on free in the non-profit section. It all adds up to a well publicized and well attended fundraising event.
Attitude, Attitude, Attitude
This is key to your success. Infusing your school fundraiser with a CAN DO attitude will reflect so many ways in the campaign. The most efficient campaigns are not put on as an afterthought but seen as something that CAN be done is essential for the group to do. When the students are actually out talking with potential donors they talk about WHY they're raising the money and how close they are to the goal. Leave your donors with a sense their contribution is the one that put the campaign over the top! Let them feel good about helping out and how to see the results their donation has generated.
Those are some fantastic tips that we have gathered from helping school fund raisers in the past. Now you tell us, what's worked well for your fundraisers?
Twitter @justfundraising