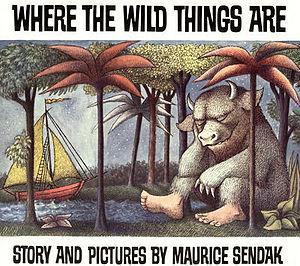 The background
Maurice Sendak, author and illustrator of children's books, including the fantastically popular 1963 Where the Wild Things Are, has died from a stroke, at the age of 83, in his home at Connecticut. His career lasted six decades, and he illustrated over 100 children's books, and wrote and illustrated 20 more. He won many prizes, including the Hans Christian Andersen award for children's book illustration.
Sendak was born in Brookly in 1928, the third child  of Polish Jewish immigrants (the same year as Mickey Mouse, pointed out The Telegraph). He was a sickly child, and hated school; he was influenced enormously by tales his father told of Jewish folklore, and stories of the Old Testament. He worked as a commercial illustrator, and as a window dresser for a toy shop. It was an introduction to Ursula Nordstrom, a children's book editor at Harper Brothers, that led to his work with children's books.  His books often attracted controversy – In the Night Kitchen for its depiction of a boy's nudity, for instance. He also made costumes for ballets and operas, and produced animated television series. He was unmarried, having a long relationship with a psychoanalyst.
Where the Wild Things Are sees a boy, Max, going to bed without supper, who then goes on a journey to a country where many strange beasts live. It was a huge success, selling more than 17 million copies. It won the Caldecott Medal for "the most distinguished American picture book," and has been translated into 13 languages. People around the world are united in their grief at the loss of a man who truly changed how children read.
"We are terribly saddened at the passing of Maurice Sendak. He was a glorious author and illustrator, an amazingly gifted designer, a blisteringly funny raconteur, a fierce and opinionated wit, and a loyal friend to those who knew him. His talent is legendary; his mind and breadth of knowledge equally so," said Susan Katz, president and publisher of HarperCollins Children's Books, quoted in The Guardian.
The dark side of life
He hated being called a children's book illustrator, said Esther Addley in The Guardian, because he hated being put in "the idiot role of being a kiddie book person." But his books "were anything but idiotic," showing a dark side to life and an unflinching view of the world.
 Mastering fear through fantasy
Children may have been terrified by his books, said The Telegraph's obituary, but "They were also rapt." He felt that childhood was portrayed inaccurately, and wanted to "confront children's everyday fears and frustrations" – how they master fear through fantasy. He recalled seeing a picture of the dead son of Charles Lindbergh – "an experience which powerfully disabused him of the notion that childhood was a fortress unbreachable by the evils outside."
He wrote what children wanted – and needed
He "truly wrote for children," said Morven Crumlish on The Guardian's Comment is Free. His subjects were "dreams and monsters, cake mix and kidnappings, rescue and dressing up." His characters are "messy, disobedient, ghastly and undisciplined," but they get no "comeuppance." What he does is make "children the promise of growing up." He justifies children's faith in the possibility of true transformation. Ultimately, "the freedom that he allows his children to be scared, to be wild, to be naughty, to be unlikeable, and yet still to be loved – will always be a comfort."
Honesty, as well as cuteness
Writer Neil Gaiman wrote on his blog: "What I loved, what I always responded to, was the feeling that Sendak owed nothing to anyone in the books that he made. His only obligation was to the book, to make it true. His lines could be cute, but there was an honesty that transcended the cuteness."
"He didn't care that it was an original drawing or anything. He saw it, he loved it, he ate it." – Maurice Sendak twitter.com/alliharvard/st…

— allison harvard (@alliharvard) May 9, 2012