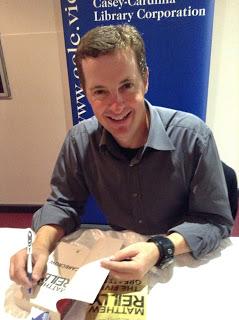 I freely admit I have not yet read a Matthew Reilly book, but that certainly didn't stop me from attending his author event at the Cranbourne Community Theatre on Monday night. The event was organised by the Cranbourne Library and well publicised both in the library and in the local media. I was only one of about 250 people who had flocked to see the popular writer of the Jack West Jr.

 

and the Scarecrow series.
Matthew Reilly is funny and friendly, and he does a great Sean Connery impression. He spent the time before the official event chatting with the early arrivals, his readers, his fans. They talked about movies and why the fifth Die Hard didn't work, and the last Indiana Jones movie should never have been made. He shared with his fans, his own anger and frustration when his favorite books get butchered in film. We can all relate to that.
When the theater was filled and the official event started there was a sudden hush where moments before there had been a cacophony of sound. Matthew began by reading to us some of his bad reviews. These were 'really' bad reviews. One in particular described his books as "light-weight adventure crap." Ouch!
Contest – his first stand-alone book – was initially self-published. Here's the blurb from his wesite:
The New York State Library. A silent sanctuary of knowledge; a 100-year-old labyrinth of towering bookcases, narrow aisles and spiralling staircases. For Doctor Stephen Swain and his eight-year-old daughter, Holly, it is the site of a nightmare. For one night, the State Library is to be the venue for a contest. A contest in which Stephen Swain is to compete – whether he likes it or not. The rules are simple: seven contestants will enter, only one will leave. With his daughter in his arms, Swain is plunged into a terrifying fight for survival. The stakes are high, the odds brutal. He can choose to run, to hide or to fight – but if he wants to live, he has to win. Because in a contest like this, unless you leave as the victor, you do not leave at all.
One interesting piece of trivia is that for the US edition, the publishers asked that he change his imaginary 'State' library to the actual New York Public Library, which he did. He visited, took photos, drew up a floor plan and changed the scenes in the book to reflect the true layout. That's dedication.
Matthew says his writing has evolved since his first book (first published in 1996 with a print run of just 1000 copies), and as a writer I know that the more you write the better you are at it. There's more to it though. Matthew said that he feels he has to keep up with the audience, "the audience evolves, grows more sophisticated." He needs to "up the ante." In regard to Scarecrow and the Army of Thieves, he said "I wanted this book to be relentless in its relentlessness."
"Your hero is only as good as your villains."
Some critics have described Matthew's books as formulaic. He said the only part of his writing that may follow a formula are the openings of the Scarecrow books. "They always start with Scarecrow zooming into danger."
Matthew headed off one of the most common questions a writer is asked by telling us that he reads a lot of non-fiction and watches a lot of documentaries; both "fire his imagination", he said. He wants his ideas and his stories to be "world changing."
"The strangest things in the books are true."
One of the questions from the audience was "Do you have to visit a place to write about it?" He said that although it's not necessary, it does help. That said, he revealed that "about 85% of the stuff in Ice Station is true" and no, he hasn't been to Antarctica; he researched the facts in his local library. The two best places he 'has' been in the world are Egypt and Easter Island in that order.
"Don't antagonise your biggest fans."
Matthew has long made it a habit to end his chapters on a cliff-hanger. While writing The Six Sacred Stones he decided he would end the whole book in the same way. "It was a good idea at the time," he said. The trouble was, his fans read fast. They usually purchase his books the moment they hit the shelves and finish them within the first week. They then had to wait two years to learn the outcome of those final pages. To say they weren't happy would be putting it mildly.
An audience member asked the question that many of Matthew's fans would probably like to ask. "With the Jack West Jr. series will you continue to write them until you reach number one?" Matthew said he probably will, but with how long it takes him to write each book and the other projects he'll be working on in between it may take a while.
"My head was exploding by the end of Temple."
Temple, another of his stand-alone books, is a split story. It is the longest of his books and was also "the hardest to write." Matthew said if his fans reread the description of character William Race, they would soon realize that it is an exact description of the author himself.
Hover Car Racer is a book you could give a ten year old to read. Matthew said, "It doesn't have the violence or, let's face it, the swearing of his other books." He wanted Hover Car Racer to be fast, fun, and to contain some life lessons. The best message in the book is what Matthew referred to as the 'Bradbury Principle' – based on the 2002 Winter Olympic gold medal win by skater Steven Bradbury. Essentially this message boils down to:
"Never give up.
Never say die.
You are always in the race."
Find out more about Matthew here http://www.matthewreilly.com/
Follow Matthew on Twitter https://twitter.com/Matthew_Reilly
Like his facebook page www.facebook.com/OfficialMatthewReilly