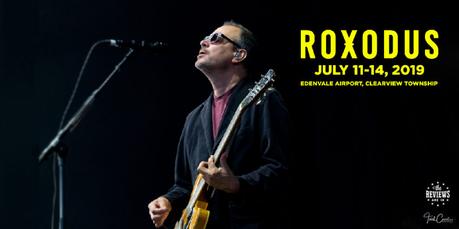 B.C. singer/songwriter, frontman, solo artist, spokesman, etc. Matthew Good is on the way to Roxodus Music Fest this summer. The Load Me Up and Born Losers singer is set to play on Sunday, opening for Aerosmith on the last day of the festival.
Related: Roxodus Music Fest Adds Aerosmith & 4th Day to Festival
Our first introduction to Matthew Good was the same as most other Canadian music fans in the mid-to-late 90s when songs like Everything Is Automatic, Apparitions, and Rico all caught our ears from Underdogs. That Matthew Good Band album was important on the Canadian alternative scene, and the follow-up, Beautiful Midnight ( Hello Time Bomb, Load Me Up, Strange Days), did some heavy lifting of its own as well.
In the time since the end of the band, Matthew Good has remained an important part of the Canadian music scene as a songwriter, performer, and mental health advocate. He's released seven solo albums, toured all over the country, learned about himself, and kept on going. And we're glad for all of it.
To get everyone ready for the Sunday, July 14, 2019 set at Roxodus Music Fest, we've put together a Top 10 list that includes five songs from the Matthew Good Band era and five songs from Matthew Good's solo career.
Hit play on the songs you love and leave a comment to tell us if we missed your favourite, or if we got it right!
Matthew Good Top 10
Apparitions
Bad Guys Win
Born Losers
Decades
Everything Is Automatic
Hello Time Bomb
It's Been A While Since I Was Your Man
Load Me Up
Rico
Weapon