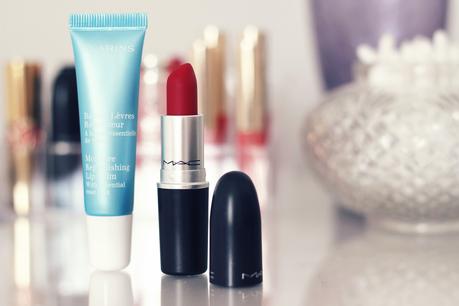 Bold lipsticks and matte formulas are made for each other. If it's bright but not matte, I'm not really interested. Ain't nobody got time for endless top ups or smears halfway across your face, and whether it be to make your pout kiss proof, or just ensure that you can eat that burger without worrying, matte lips definitely seem to be the way forward. 
Unfortunately, they do come at a price. MAC Matte Lipsticks are among my favourites, especially Ruby Woo, just look at that gorgeous red, but they can be incredibly drying, and lend themselves well to that dried out prune look, not exactly what you want. There are a couple of things that you can do to avoid this effect though, and one wonder product that I have found to prevent dryness before, during and after. 
Lip balm, lip balm, lip balm. And one in particular, the Clarins Moisture Replenishing Lip Balm - it may be pricy at £19 a pop, but totally worth the results. A rich and thick formula that will cling to your lips for hours to come, seriously, this stuff is still there come morning and works pre and post lipstick. Apply once before you start doing your makeup, by the time you get round to your lips they should be lovely and moisturised and you can get to work painting the color on. The great thing about this lip balm, is that it isn't oily, so won't create that 'slip' that you can get with some products and therefore the color isn't going to transfer. During, if things start looking a little parched just pat a little on top and blot with a tissue to get the matte finish again. And finally, after, you want to lip balm the life out of your lips. It's no secret that matte formulas aren't kind to them, but with a little extra care you shouldn't have to feel the effects. 
Yes it's a bit more effort, but only one extra product to use and the guarantee of a pretty pout makes it all worth it in my opinion. What about you, do you think you'll be trying this lip balm?