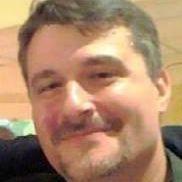 Matt Osborne
The activist at the heart of
a false-flag operation that might have determined the outcome
of Alabama's 2017 special U.S. Senate election has claimed he and others involved acted within the law. Special Counsel Robert Mueller's actions in the Trump-Russia investigation, however, suggest Matt Osborne might be wrong about that.
It's too early to say if Osborne, from Florence, AL, will face criminal charges -- perhaps along with others. But it's possible
the deceptive Dry Alabama scheme
was the deciding factor in U.S. Sen. Doug Jones' (D-AL) upset victory over Republican Roy Moore. If it's proven that Doug Jones (D-AL) knew about the Dry Alabama scheme, that would suggest he obtained a U.S. Senate seat by fraud -- and it could become one of the biggest political stories of the year.
Both Jones and Alabama Attorney General Steve Marshall have called on the Federal Election Commission (FEC) to investigate, and there has been no news on that front for almost 10 weeks. Jones also has called for an investigation that goes beyond Congress, perhaps to the Department of Justice. At this point, our research indicates Osborne and Co. probably received poor legal advice -- causing them to engage in an ill-conceived scam that might cost them dearly.
How does Mueller enter the picture? In July 2018, he indicted 11 Russians on charges of meddling with the 2016 U.S. presidential election. Many of the charges were brought under
18 U.S.C 371, Conspiracy to Defraud the United States
(also known as "Conspiracy to Commit An Offense Against the United States."). From the Mueller indictment:
COUNT ONE
(Conspiracy to Commit an Offense Against the United States)
1. In or around 2016, the Russian Federation ("Russia") operated a military intelligence agency called the Main Intelligence Directorate of the General Staff ("GRU"). The GRU had multiple units, including Units 26165 and 74455, engaged in cyber operations that involved the staged releases of documents stolen through computer intrusions.

These units conducted largescale cyber operations to interfere with the 2016 U.S. presidential election.
The indictment lays out the case, with 78 paragraphs of factual allegations, concluding on page 27 with this:
All in violation of Title 18, United States Code, Section 371.
Are the factual allegations identical to what apparently happened in the Dry Alabama scheme? Of course not, but they don't have to be, under the broad language of Sec. 371. Here is how it reads:
If two or more persons conspire either to commit any offense against the United States, or to defraud the United States, or any agency thereof in any manner or

for any purpose,

and one or more of such persons do any act to effect the object of the conspiracy, each

shall be fined under this title or imprisoned not more than five years, or both.


If, however, the offense, the commission of which is the object of the conspiracy, is a misdemeanor only, the punishment for such conspiracy shall not exceed the maximum punishment provided for such misdemeanor.
Note the words "for any purpose." Language does not get much broader than that. And the gist of the Mueller indictment is that two or more persons in Russia conspired to interfere with a U.S. federal election -- the 2016 presidential race between Hillary Clinton and Donald Trump.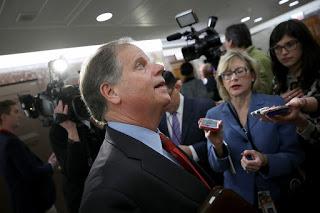 Doug Jones
That appears to be in line with what happened in the Dry Alabama scheme, which included Matt Osborne, D.C.-based
social-media consultant Beth Becker
, and likely others who reportedly concocted the scheme at a Netroots Nation conference.
In a 1924 case styled
Hammerschmidt v. United States,
the U.S. Supreme Court addressed issues related to defrauding the United States:
To conspire to defraud the United States means primarily to cheat the Government out of property or money, but it also means to

interfere with

or obstruct one of its lawful governmental functions by

deceit, craft or trickery, or at least by means that are dishonest.
That passage probably explains Robert Mueller's repeated use of the word "interfere" in the indictment against Russians. What about words like "deceit," "trickery," etc. In a variety of articles from news outlets across the country,
Matt Osborne pretty much admits that Dry Alabama was an effort to trick
would-be Roy Moore voters into changing their votes or not voting at all.
Osborne and his associates might wind up escaping criminal scrutiny, and Doug Jones might find a way to cover up the smell from Dry Alabama. But they would have been wise to take a closer look at the law and refuse to get in the muck to begin with.