Via NBCSports & SFGate: "Not content to just swear at Eric Sogard and insult him for his squeeze bunt in the seventh inning today, Rangers starter Matt Garza then apparently took to Twitter to slam Sogard and his wife, Kaycee, tonight. Garza uses a locked account, @Gdeuceswild, that has been confirmed as his in the past."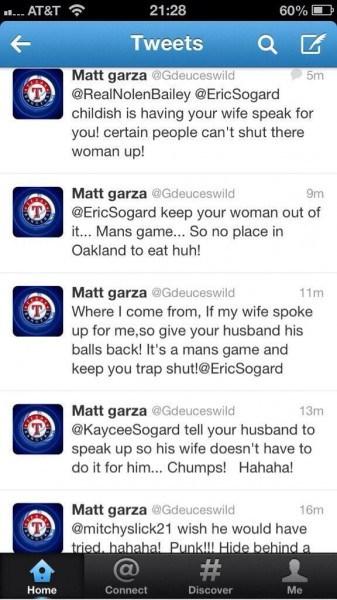 So apparently Garza wasn't happy with Sogard's squeeze bunt yesterday, had a few words to say to him and Sogard's wife took to twitter to back up her man.   Look, here's the deal, Garza's right, Sogard has to keep his wife in check.  No need for her to start running her mouth on social media for the world to see.  However, Garza can't be doing this, right?  I mean he's a grown man with a wife and two kids, shouldn't he be over this kind of thing?  Leave it all on the field, bro.
P.S. That last tweet is the best from Garza: @KayceeSogard tell your to speak up so his wife doesn't have to do it for him…  Chumps!  Hahaha!"  Is Garza trying to start a fight or something?  Absolutely nothing worse than trying to be tough via social media.  You immediately become part of the clown show with tweets like that…  Chump!