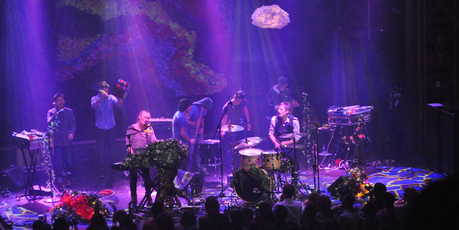 While the stage setup resembled a combined McDonalds play place and the secret garden, indie-pop vets Mates of State (@matesofstate) employed no gimmicks, getting an unexpectedly amped Webster Hall crowd off of their feet last Wednesday evening. Relying on their hook-heavy dance beats and basic yet booming vocals, husband-wife combo of Jason Hammel (drums, vocals) and Kori Gardner (keys, vocals) brought the audience to life.
The evening kicked off with a short set by Chicago buzz-band YAWN (@yawnmusic), who laid a solid foundation for the evening with their eclectic variation on indie psych-pop. Employing an array of synths, drum machines and calculated harmonies to evoke a Grizzly Bear meets Cymbals Eat Guitars vibe, they truly captivated an unassuming audience. Another impressive quality was on their ability to coordinate the drum machine with their live percussion, complimenting a setup in which didn't have a bass drum.
Following YAWN's set was a performance by Oklahoma alt-folk up-and-comers Other Lives (@otherlives). The group, which has been gaining significant traction on the indie circuit over the past 18 months, surely did not disappoint. Featuring a number of tracks from their latest album Tamer Animals (TBD records), Other Lives utilized a combination of instrumental suspense and meticulous precision to create an audio landscape similar to a cowboy movie within the matrix. In an almost cinematic fashion, the band busted out the timpani, in addition to strategically looped brass to add layers to their performance.
From the second Mates of State stepped on stage, there was no question that the night was destined to be a party. Even as their roadies prepped the background with plastic floral arrangements and faux vines, the buzz in the crowd grew tremendously. Jumping straight into an up-tempo iteration of "Get Better" everyone in the audience was extremely excited and belting every lyric: "Forget all your politics for a while / Let the color schemes arrive until they were horse in the throat."
The band was promoting a new record, Mountaintops, released in September, and took the opportunity to experiment with a few new tracks such as the synth heavy "Maracas". From my perspective, this performance will likely be an anchor of future performances and will surely become a signature sing-along track. Though on some tracks the driving drum cadence sometimes morphed into hypnotic rock monotony, there were still plenty of bright points, particularly from the new album including "Sway", "Palomino" (encore) and "True Love Will Find You in the End".
Save for a few lulled moments, the show was a major success and truly a coming out party (or already out party?) for YAWN and Other Lives.