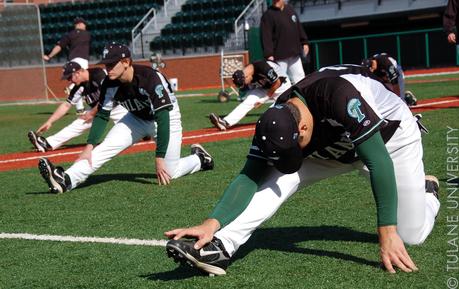 If you are a middle school baseball player then I hope you are finding time to watch practices being played at the high school level.  If you are at the high school level, you should be watching college practices.  Far too often kids just focus on the level at which they are playing and ignore the levels above them.  This is a mistake.  You cannot properly prepare to play at any of the next levels if you do not know what will be expected of you at those next levels. 
"But coach, I go to as many college games as I can and typically watch all the ones on TV too."
Not good enough.
Watching games in person or on TV is better than nothing but you are missing the gold if you don't see the practices.  I can see how big the top college players are by going to a game or watching on TV which may help my workout plans.  I can see how hard they throw or how far they hit the ball too which I can use to compare to my own abilities.  All good stuff but it's not good enough.  You still are missing two major elements to baseball.  Energy and focus.
Watch a good high school team practice and you will see a very high level of energy and focus.  Watch a good college program practice and the energy level and focus will likely be even higher.  That's because as the levels go up in the game, the seriousness and the sheer amount of time spent on the field go up as well.  If a player cannot match the energy level and focus required to practice that much then their career is over.  I don't care how hard they throw or how big they are.
When I ran high school tryouts over my 13 year high school coaching career, it was easy to spot the players who were not ready for the energy level and focus I required.  They were tripping over themselves in warm-ups.  They were not ready for the next ground ball hit to them.  They walked into the batting cage instead of ran when it was their turn.  They looked like deer in headlights simply because they had never experienced a practice run at that pace and they couldn't keep up.  Some adjusted quickly and some – even some that had talent – realized the game had passed them by.  You could see that realization in their eyes.
If you want to play at the higher levels then go watch those levels practice.  Watch them swing, throw, pitch, and field but more importantly, notice their energy levels and their focus.  Then go back to the practices on your own level and match that energy and focus starting now!
Thursday's video post:  Looking v Guessing for pitches
---
*To plan for the upcoming season, check out all the eBooks from Baseball By The Yard by clicking HERE!
*My Four-Week Guide to Developing Pitchers For Game #1 has been a big hit!  Get it HERE!  It's less than 5 smackers which makes it a pretty ridiculous deal.
*Getting ready for indoor workouts?  Click HERE for a eBook to get the most out of them!  This one is FREE which is even more ridiculous!
*For practice templates, workout routines, and much more, go to the Resource page!