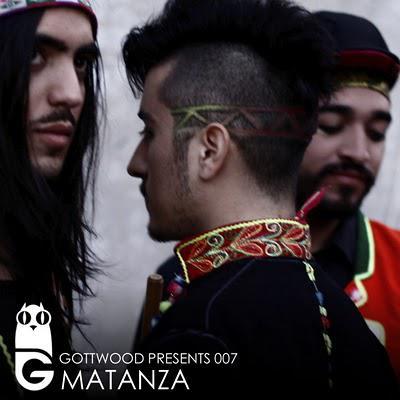 Gottwood Festival is approaching fast folks! The Standard Weekender Tickets (£80) are selling fast, so we can't encourage you enough to bag and tag your woodland pass, at what is going to be a definitive highlight to this Summer's festival season.
If your sights are aimed towards the Pelski Presents Jackmode Stage, then please be sure to use our promotional code, where you will be guaranteed a free program and additional goodies on arrival. Here's the code, which you can punch in on purchase...
GOTTPELSKIJACKMODE  


BUY TICKETS HERE 


Here are just a few of my favourite acts who have been booked so far...

MAX COOPER

, 

ZEDS DEAD

, 

ROUND TABLE KNIGHTS

, 

MONKEY SAFARI

, 

PERC

, 

MIDLAND

, 

PHIL KIERAN

 

MATANZA

, 

JAMIE XX

, 

A GUY CALLED GERALD

... 
...see the official line up for a more comprehensive list.


This week's exclusive podcast comes from a mysterious trio of musical shamans from Chile, known as Matanza. Forging Latin American folklore with music inspired by travels across the Andes and the Amazon, their live show is set to absolutely tear up the Jackmode and Pelski stage this summer at Gottwood. Check out their fantastic mix filled completely with their own productions for a taste of what Matanza are all about...


Hello Matanza!
What's been keeping you guys busy lately?
Hello Friends! These last few weeks have been very hectic for us, after opening the show for LCD Soundsystem and Brodinski with great succes, we have been focusing on finishing new tracks, remixes, mixes and preparing for our show at Lollapalooza in Santiago de Chile!
How do the three of you know each other and how long have you been making music together?
Two of us have been DJing together for around 5 years and about 3 years ago we all moved in together in a big house aka The Studio, where we were experimenting and collecting all the instruments that are part of our cultural background. After a few years of experimenting together we decided in 2010 to leave the DJ format behind and bring the flutes and percussions to the stage, instruments that are fundamental for our new sound and that we've recorded with since the early years of the band.
Tell us a bit about your music, how would you describe it?
We use a lot of the the rhythms and chants of our native American traditions, but we also love the idea of developing and reinventing those sounds, mixing them with all our electronical influences, seeing folk music as something postmodern.
You're all from Santiago, Chile, what's the music scene like there?
Yes, the three of us live here, and the new scene is vibrant and making a lot of noise! There are loads of new talents and more and more promoters, and the fact that big fesivals are held here is always a good and positive sign.
And who have been your biggest musical influences over the years?
Wow, a lot of things! From the first Latin American Electronic downtempo of ESL music through to the full development of Cadenza Records, Ricardo Villalobos, Matias Aguayo. Also labels like Anabatic, Dubsided, Mad Decent, Made To Play and Dirty Bird have been fundamental in the evolution of House music wich we feel more related to, we call it Street House. And the past year has seen it really grow with the new wave of Global Ghetto Tech, with fundamental pillars in Mexico and the whole of Latin America.
You're known for playing with traditional South American instruments, could you tell us a bit about your live set up?
We´ve been slowly building up our collection of instruments which comes from different parts of South America. In our live set we use the Colombian 'Gaita', 'Zampoñas' (big pan flutes), Andean 'Bombo', the Dominican 'Tambora', bongos, bells and loads of others. These instruments are from different zones and not specially related to each other, but we mix them all on our laptops and midi controllers.
Wow, can't wait to see that! Do you think growing up in Santiago has had a big effect on the music you make?
Yes of course, we´ve been very influenced growing up surrounded by Latin American Culture!
What does the future hold for Matanza?
To keep throwing out good vibes to all our followers, and hopefully killing it in Europe!
What's been your favourite track of the last few months?
La Corporacion - Prizma Corp (Discobroz remix)
What do you guys get up to in your spare time?


Well Matanza is our main and only proyect in our lives at this moment, even though we collaborate with fellow musicians a lot, and we all do a lot of DJing. But most of the time we spend our time in Matanza's secret lab in downtown Santiago.


What are your tips for 2011?
Artist(s): Die Voguel, Bert On Beats, Paul Marmota
Label: Antartek, Dub Noir, Man Recordings, Pampa Records
Club: La Feria, Santiago de Chile
Blog: Pelski, Generation Bass
And the killer question...if you had to be stranded in the woods, what 5 items could you not leave home without?
Weed, Drums, Flutes, Water and Fire 
Haha, good combo...Download Matanza's mix from Soundcloud below, and don't miss them headlining the Jackmode/Pelski stage this Summer at Gottwood!
Tracklisting
1. Matanza - Whyno (Antartek Records)2. Matanza - Ciencia del Vegetal (Antartek Records)3. Matanza - Temazcal (Antartek Records)4. Osvaldo Torres - IndioApolinar (Matanza Remake) (Antartek Records)5. Matanza - Barbaro (Anabatic Records)6. Matanza - Lluvia (Anabatic Records)7. Matanza - Puya8. Matanza - Yariry (Dubnoir Music)9. Matanza - Chumba (Dubnoir Music)10. Matanza - Cahski (Dubnoir Music)11. Matanza - Paloma12. Beatriz Pichimalen - Cancion del viento (Matanza Re-edit)
 Gottwood Presents 007 - Matanza by Gottwood


BUY TICKETS HERE!