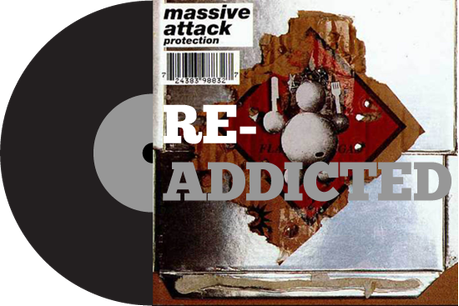 Some albums get under your skin and stay there; these are the ones that years later we still can't stop loving, even if we just remembered why.
Protection was a bit of a disappointment. Considering the brilliance of Massive Attack's debut Blue Lines, and their third album, Mezzanine, the dub-seeped masterpiece, Protection falls somewhere between "pretty good" and "meh" in the bands catalog. It hasn't made it onto any of the big "best of the 90s" list like the records it falls between, it doesn't soundtrack any hit TV show, and it didn't push the band forward in any real way. And yet it's also my favorite Massive Attack  record — one that I come back to time and time again. It's the record that sounds most like the band that I love so much. It's not their best, but for me it's the most important.

The core genius of Massive Attack (@massiveattackuk) can be summed up in the first five tracks of their sophomore album. The first track, from which the album takes its name, is an eight minute languid love ballad. It's a haunting, ambling and achingly sincere song defined by its eloquence and simplicity. The next "Karmacoma" is the definition of trip hop — a seamless mixture of hip hop, reggae and electronica. "Three" is quintessential chill-out electro with beats and hazy treble rolling in and out. "Weather Strom" mixes hip hop beats with jazz piano and "Spying Glass" features Horace Andy, a reggae master, singing with electronic manipulation. Five tracks that define what Massive Attack is — what Trip Hop is — understated and perfectly produced genre bending.
To me, very little is as perfect as those five tracks sitting so beautifully in a row. They're safe, which is what made critics furrow their brows when they first heard the record, but they're also comforting. They're so warmly produced and so tender that the songs hold you. Electronic music often has a problem feeling distant and cold, but Protection gave it a warming glow. Those five tracks slither around, thanks in large part to their codeine bass lines, and act as musical blankets. It may be harsh outside, but I always know that the first wa-wa in Protection will keep me warm.
Sometime ago, I found myself in need of that sort of comfort. Instinctively, I put on the album — turning up title track so loud that the lethargic throbs were completely consuming. It had been years since I listened to that record, and I still knew all the words, still knew where every thump, scratch and dip fell, and still knew how to rap along to Tricky. I listened through Protection with myopic focus, and when it came to the end, I pressed play on the first song again. My loneliness abated, and as corny as it may sound, I felt protected. The album has been on repeat ever since.

Massive Attack are still making music. They released another spectacular record, Heligoland, in 2010, recently released a spectacular 12" with Burial called Four Walls and sporadically release remixes. Most recently they released some Occupy inspired remixes on their site, www.massiveattack.com. They are still touring on occasion, and recently have welcomed Blue Lines and Protection-era member Tricky back into the fold.

Lovers of Massive Attack are lucky, their influence can be heard everywhere. Dub-step, a genre whose roots are easily found in the Trip-Hop of Massive Attack, has gained new popularity with the stunning debut of James Blake last year. The Weeknd has taken the R&B and hip hop with sinister electronic undertones to new and surprisingly sleazy heights with his House of Balloons, Thursday and Echoes of Silence mix tapes last year. For a more electronica bent, UNKLE and Burial often collaborate with the varied members of the group, and release amazing material themselves. Check out UNKLE's 2008 release End Titles…Stories for Film, for a mood piece comparable to Protection.
Really though, if you listen closely enough, and you're bound to find a little Massive Attack in almost everything released after 1998.