I have to admit until this moment I had it closed in my mind, but that was because I hadn't thought of it, I guess.  Also, it's almost like I haven't finished it in actuality because I'm in the middle of writing Vasilije's story, and even though his is set in modern times in New Orleans, it's still related to the Trilogy.
What about Cecile from Masquerade? Will we get to read her story? I absolutely adore her!
I'm so thrilled to read you liked her.  I'd never even considered it, mainly because Cecile, like all my other secondary characters, is mostly a foil for Annelisa. But you'd be surprised how often I'm asked for all my stories about a secondary character story. I guess that's how Vasilije's story came about. 
I believe that your second characters are just there for supporting the hero and heroine's story, but they do make a lot of difference in the story.
I'm so happy to read that because I'm very careful in how I craft the secondary characters.  Cecile had to be the opposite of Annelisa to show how the heroine was older and more serious, but also Cecile added to the lighter feel of the story, along with some of the scenes between Nikolai and Annelisa. 
Now that we're talking about crafting characters, can you tell us how is the process of naming your characters and books?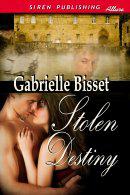 I use names to indicate character traits, for the most part.  Nikolai is a Russian diplomat, so I wanted something that sounded stereotypically Russian.  I gathered about five names and then narrowed the choice down to one.  Annelisa's name I'd had in my mind for a while, and I used Masquerade to finally name a heroine that.  Other times, I use a name because it sounds sweet or evil or tough.  Amon in Stolen Destiny and Destiny Redeemed is a fine example of that.  I have no idea what his name means, but it sounds ancient and bad, so he got that name. 
As for the book titles, I have the hardest time with them.  Masquerade came easy because of the idea of the story and the mask on the cover, but for Love's Master, I didn't have a title until I was almost done writing the book!  The same thing with the story I'm writing now.  I'm ten chapters in and just decided on Blood Avenged.  Sometimes the name comes easily, but then other times, no way! It's like pulling teeth.
Let's talk about Blood Avenged a bit, what was the most difficult thing about writing Vasilije's story so far?
Vasilije has been the most difficult thing about the story so far.  He's by far the most erotic character I've ever written, and he often threatens to go a bit further than I feel comfortable with.  For example, I was entertaining a menage with him and the heroine and a secondary character for about a week.  It kept calling to me, but I don't generally do menages.  That brings a new level of sex into the picture, and then I have to think about whether or not he'd be with the man too….I generally don't go in that direction, but he seems to!  He's a bit too much for me to handle some days. 
And you have another series going on, the Destined Ones, and the second instalment will be released now in October, Destiny Redeemed!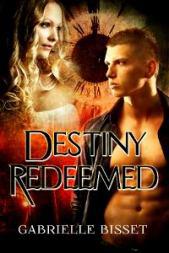 Amon was the villain in Stolen Destiny and now he's got his chance to shine! How will the readers relate and cheer for him now?
Honestly, I can't tell you how many reviewers said they didn't want to see Amon not end up with the girl in Stolen Destiny.  Of all my characters I've ever written, Amon is the one that I can't shake.  It seems from a number of reviews of Stolen Destiny that he has that same effect on other readers. One even said she couldn't stop thinking about him for days after he affected her so much.  I know what she means.

In Destiny Redeemed, Amon is just a year older but he's had to deal with that year in Nil, so it's changed him a bit.  What really changes him is Thea, an Aeveren healer who becomes his fourth destined one.  Amon is her first destined one in 45 lifetimes, but she's no scared virgin. Aeveren healers just aren't usually given destined ones, so she's a strong women with lifetimes of experiences.  Amon is forced into a position like Varek's when some very bad people kidnap Thea to get to him.  The idea is redemption in this novel, whereas in Stolen Destiny it was second chances. I think readers will like Amon's story because he's never really not the bad boy since he has so much power. And there is at least one really evil character in this story.  There's no chance readers will fall for Kiril. 
Thank you for taking the time to have this interview, I know you've been busy! All the best with the release of DESTINY REDEEMED next month!
Thank you very much!  It's been lovely talking to you. ***
My Thoughts:
The pacing is great, the second characters are intrinsic to the plot development and, as always, Gabrielle surprises us when you think that everything is lost.


Annelisa is very drastic in her actions and incredible stubborn almost unbearably so! Nikolai is the type of character that you fall in love at the first line of dialogue. They're both really strong characters, but on the other hand, I did wonder if certain blackmails were threatening enough that couldn't have been fought back with more blackmail! But again, this is a novella and we didn't have enough time for come backs or further persuasion.

Even though the story has its simplicity, it is very well written and edited. The English setting is vivid and I really enjoyed how it ended – I loved Masquerade!

Heat Level: 4/5

 

Rating: 5/5

I received this book via CBLS Promotions in exchange for a honest review.

***