Mascaras that are designed especially for Eyelash Extension wearers.


One of my most frequently asked questions is about what mascara is 'safe' to use with your semi-permanent eyelash extensions? Now although mascara is not really needed or recommended, since one of the benefits of having eyelash extensions is that they already give the illusion of wearing mascara, some people still like to use it. It is also quite good to use a safe mascara when your lash extensions are on their last life cycle and you are letting them all fall out, then this fills in the gaps making them look more polished and matched. 
REMEMBER:-
You should only apply the mascara to the tips of your lashes and your bottom lashes as the lash adhesive naturally thickens the lashes from the root.
The mascara itself must only be water-based and

not

oil based or waterproof. Waterproof mascara or any type of oil based mascara can dissolve the bonding agent used to attach the lash extensions and thus shorten the life of your eyelash extensions causing them to fall out sooner.
Due care also needs to be taken when removing your mascara, using only a water-based eye make-up remover for the same reasons. You should be able to remove with a cleansing cloth with warm water and remember NO cotton wool.
Remember these 

types of mascaras

 are all fairly basic as they are only designed to add some extra darkness to the lashes.
To make things easier I thought I would share with you all some mascaras I have found that are especially designed for us lash extensions wearers out there available online throughout the UK, US & worldwide as they are a specialised brand ....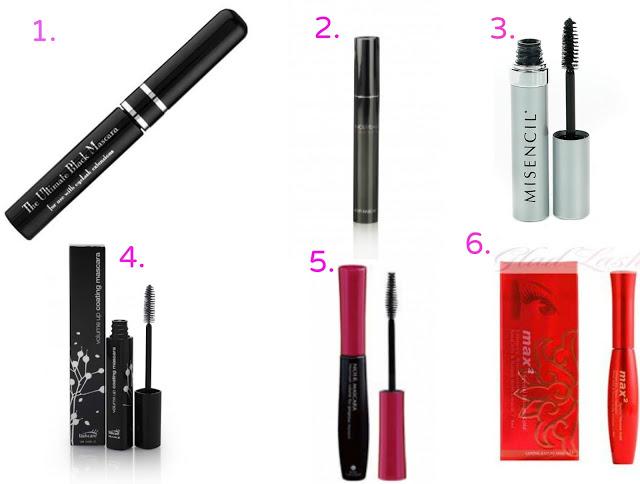 Stockists & Info
1. Lash Perfect Ultimate Black MascaraThis is the company that I originally trained with which retail many 'safe' make up and cosmetic items. This one I have tried and tested and works well.  Available in Black only from UK their website here, priced at £10.20.

2. Nouveau Lash Black Mascara Available online from their UK website here in black only priced at £14.99 from the popular brand, Nouveau Lashes.
3. Misencil Star Volume MascaraSee their online site for information on stockists near you worldwide here and for more information on this product here.

4. LashCare Volume Up Mascara 8mlThis mascara states that it gives a longer bonding life to the lashes, available online from UK here priced at £7.50+vat, US here priced at $20.00.

5. D'Vine Lashes Noir Oil free MascaraShips worldwide and available online here priced at $14.99.

6. Glad Lash Max 2 Volume Up MascaraAvailable worldwide online though Paypal here priced from $13.19 with multiple buying optional.

I hope this helps and if you know of any other safe mascaras to use then please do let me know so we can add them the list!