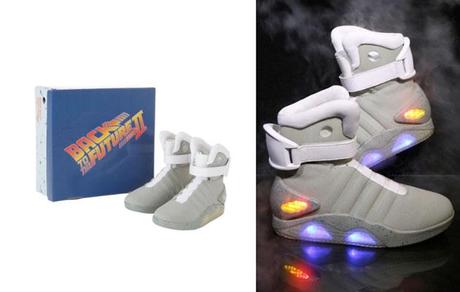 Nike has plans to develop a real-life version of those shoes with self-lacing tech and everything, but it might take some time. For those of us who can't wait, here's something pretty close to the real thing. Teaming up with Universal Studios, HalloweenCostumes.com has launched a pair of light up shoes that looks exactly like Marty McFly's Nike Air MAG shoes for just $98.99, except without the self-lacing technology.
Read Also: 10 Astonishing Behind the Scenes Photos from 'Back to the Future'
It features the exact design of the shoes from Back to the Future movie, a power cord for charging the battery LED Lights and comes in a shoe box with Back to the Future logo. Sadly, the stock for the first shipment has already been sold out, but the company promises to open up sales next month with a new batch.
[Via: Engadget / Halloween Costumes ]
(All images, trademarks shown on this post are the property of their respective owners)
Follow @nrjperera – Roshan Jerad Perera