The promise:  a pasta sauce and a pasta that can be cooked in one pan.  I was intrigued, but skeptical.  No initial sautee of onion and garlic in olive oil to bring out flavor?  Cooking pasta in a mere four cups of water?  I'm usually sheepishly conscious I am not using enough, thanks to my impatience at waiting for the watched pot to (seemingly never) boil?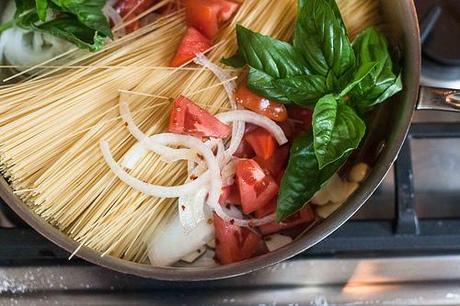 The result–not bad, not bad at all.  When finished I was worried that the abundance of pasta relative to the flecks of tomato and onion would result in a bland dish.  The oil evenly coats every silky strand, infusing eat forkful with plenty of garlic, basil, and onion, and a surprising (but welcome) bit of heat from the pepper flakes. Because everything cooks so quickly, all the constituent parts retain their freshness, meaning this works well as a nice summery dish, and is brighter than just dumping out a jar of pasta sauce over a bowl of spaghetti.  And it might just be faster to prepare.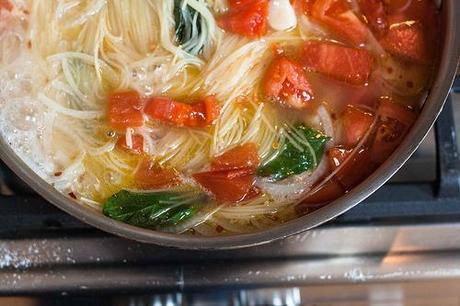 This is not a household that can usually manage both primi and secondi:  we're talking one main dish here.  And this pasta is more first course than main event, though with a few sides (would that be contorni since we're doing the foreign language thing?)  it would manage that just fine.  Yet it's so easy I can imagine myself adding this in as a first course even without having to summon up too much ambition.  And I'll certainly keep it in mind if we ever manage to get ourselves organized enough to have another dinner party.  As I've learned before, pasta dishes can be a lifesaver at such events.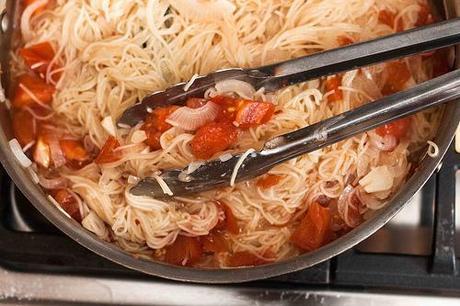 I've made this with both the cappellini shown below, as well as with penne, and it's worked out nicely both times.  Both times as a spur of the moment type thing.  It's so nice to just breezily "whip something up" like that.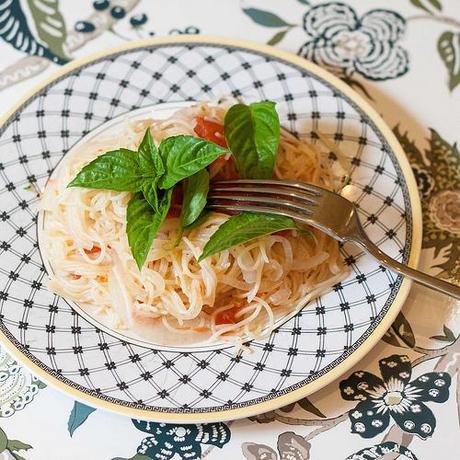 Martha Stewart's One-Pan Pasta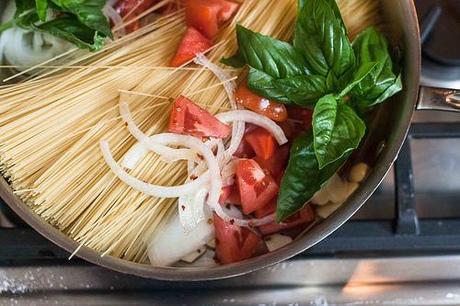 Print
Prep time 15 mins Cook time 10 mins Total time 25 mins   Author:
adapted from Martha Stewart Living
Serves:
4
Ingredients
12 ounces linguine (I used cappellini)
12 ounces chopped tomato (if using cherry or grape tomatoes, halve or quarter depending on size).
1 onion, thinly sliced (about 2 cups)
4 cloves garlic, thinly sliced
½ teaspoon red-pepper flakes
2 sprigs basil, plus torn leaves for garnish
2 tablespoons extra-virgin olive oil, plus more for serving
Coarse salt and freshly ground pepper
4½ cups water Freshly grated Parmesan cheese, for serving
Instructions
Combine pasta, tomatoes, onion, garlic, red-pepper flakes, basil, oil, 2 teaspoons salt, ¼ teaspoon pepper, and water in a large straight-sided skillet. Bring to a boil over high heat. Boil mixture, stirring and turning pasta frequently with tongs, until pasta is al dente and water has nearly evaporated, about 9 minutes.
Season to taste with salt and pepper, divide among 4 bowls, and garnish with basil. Serve with oil and Parmesan.
Notes I'm thinking you could get by with using even less water than called for, though it's probably something that will vary based on the type of pasta. 3.2.1682