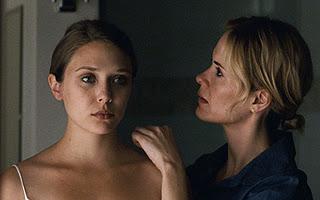 Photo: Twentieth Century Fox 
Directed by Sean Durkin. Starring Elizabeth Olsen, Sarah Paulson, John Hawkes and Hugh Dancy. 102 minutes. 14A
Even if you don't buy into its disturbing plot, by the end of Martha Marcy May Marlene, you will undoubtedly be feeling the effects of the Elizabeth Olsen Kool-Aid.  Hate on her famous sisters all you want (or actually, don't - Winning London is totally legit), but the youngest Olsen may be the maturest, most intriguing member of the family and her core-shaking performance in this film is more than enough to make you realize this apple falls far from the bag lady fashionista family tree.
The film's tongue twister of a title refers to the many names Olsen's character receives as a member of a creepy, countryside cult led by a domineering, yet frail man named Patrick (John Hawkes, Winter's Bone). It's unclear what draws the young woman to the backwoods Big Love group, although we know she ran away from her sister (Sarah Paulson) and her husband (Hugh Dancy) to join it, and has since fled back to them, in fear of her life. 
Her truly harrowing experience with Patrick and the rest of the brainwashed men and women is revealed through a series of slow-burning flashbacks, which become more and more disturbing, ranging from recollections of ritual "cleansings" (or, should I say, sleep-rape?) and animal slaughtering to memories of the terrifyingly time-turning (and subsequently, tummy-turning) day-to-day concubine lifestyle. It sounds rather over-the-top, like some sort of 1970s soft-core Grindhouse pic, but it's quite the opposite. With its sepia-toned backdrop, subtly decaying setting and positively stripped down (in every sense of the term - and yes, I'm even talking about Olsen) performances, Martha Marcy May Marlene is almost too raw to swallow at times. 
This hopeless feel is elevated to a whole other level by Olsen and Hawkes' off-putting chemistry. This is a love story in any warped sense of the imagination, but the two feed off each other's competing energies - his of self-hatred disguised as blind love, hers of overwhelming intimidation masked by acceptance - and carefully churn out two equally wrenching performances.
Most of their interactions will get under your skin, but one scene, in which Martha and Patrick spoon in the group bed, is particularly uncomfortable to watch. Their expressions are both blank, for the most part, except in the eyes. Since they are not turned to face one another, Martha lets her dread seep out through her owl-sized peepers, demonstrating the act opposite of smizing.
While both actors come out like diamonds in the way-rough, Olsen is the one who shines the brightest. You could chalk it up to the element of surprise, and the fact that she far exceeds your expectations. But she deserves more than that. This girl, once just an inspiration for half the title of one of her sisters' fashion lines, has no shame, putting everything on the line to let this lost not-so-little girl's grim story come to life.
Although, it's definitely an unpleasant watch (one of my viewing partners left the theater speechless and shaking her head incessantly), there was not much I didn't like about Martha Marcy May Marlene. There are some pretty pretentious moments, including a far amount of overly long pull-away shots and pre-planned lulls in dialog. However, given the quality of the script, they are much less groan-worthy than the average mediocre, intentionally uncomfortable indie pic that I love to hate. (See: Every non-Wes-Anderson-involved Noah Baumbach movie. Yes, even the Jesse Eisenberg-starrer,The Squid and the Whale.)
Martha Marcy May Marlene
is the exact opposite of an old school Olsen offering. There are no musical numbers, over-bedazzled outfits, power girl pop soundtracks or even slight hints of happy endings. And, as much as it pains this lifelong member of the MK & A cult to say, to paraphrase Patrick in one particularly chilling moment, she may just be my new favorite. A-