Ryan Marshall stepped away from Walk Off The Earth late last year. After a very tough, emotional year, the Emmy and JUNO Award-winning singer-songwriter and multi-instrumentalist expressed that he needed to return to his indie pop-rock roots and reconnect with himself.
In June of 2019, Marshall (his solo stage name) released his first solo album Layers, and he began the process of being able to truly explore the range of his voice. We asked him why "Marshall" and not Ryan Marshall? He replied with, "Well, in hindsight Ryan Marshall may have been the better choice when it comes to search engines...cuz I get buried by Eminem quickly and also Marshall guitar amps LOL...but Marshall has basically been my first name since I was in grade school. All my friends have called me that and it never really changed."
Well, he's back with a new song and a quirky, fun to watch video to accompany it.
This Is It represents well as the first track from Marshall's upcoming sophomore solo project. The album is set to be released later this year, marking a return to the alt-rock sensibilities he's known for. This Is It was co-written with Lindsey Ray and Thomas 'Tawgs' Salter, and recorded in Nashville. Accompanying the single release is a great video which was directed by Chris Stacey. We're going to tell you that you should plan on keeping your eye on the screen while you watch. The music video for This Is It premiered exclusively on ET Canada's national broadcast, and it's stirring up interest everywhere. In a speedy turnaround from concept to filming, Marshall's long-time friend and legendary cameraman Brian Trieb was the master behind the camera. It's strategically shot, with beautiful background and something you may not be used to seeing from Marshall.
Hit play to watch the video!
This Is It (Official Music Video)
"We've all had a serious look at solitude over the last couple months, and the negative impact it can have on you if you let it. But finding the humour in it and embracing the freedom, especially while naked? Well, that can definitely help put a smile back on your face." - Marshall
"Two of my best friends are also my go to's for music videos, Bryan Trieb and Chris Stacey. So, the fact that I got to work with my best dudes immediately makes every experience awesome. But tbh, we didn't have a concept for the video up until 10pm the night before the planned shoot date. I was in Chris' studio, and we had Bryan on Facetime, and we were all spinning trying to figure out what to do. Chris put on an old real estate video he had shot where the real estate agent takes advantage of a beautiful home he's selling and gets caught naked by the owners...so we lined up THIS IS IT to the video and it was HILARIOUS, so we wrote a quick treatment and went and bought some women's underwear. Funniest part of the day (which I had forgotten until Bryan reminded me a few weeks later)...the house was actually for sale, but we had confirmed there were no showings that day...well, there was a last-minute one that wasn't in the books, and the real estate agent showed up with a nice lady who likely thought we were shooting "adult films"."
I had to ask - the burning question, naked or skin-coloured Speedo? Marshall said, "Both...mostly skin-coloured undies, but there is a nude scene...not gonna say which one tho LOL". Can you tell which scene was shot nude? I think I know!
While we had Marshall's attention, we asked him to do a round of 5 Quick Questions. He graciously obliged.
5 Quick Questions With Marshall
COVID is on everyone's mind, and when I asked Marshall about how he's been dealing with the pandemic, he turned it around on us in the most positive way. Marshall's response was, "Well, I'm not sure if "dealing" is the right word for me. It's almost more "accepting" ...I'm a problem solver and I like to plan, and I like to know where and when I'm going to be doing something...and covid has smacked us all in the face with learning to accept the unknown. I actually don't know if it's healthy LOL...but it's definitely created a new level of patience. Finding the positives isn't always as easy as it sounds, but I couldn't be happier about the time it has given me to concentrate on writing. I wish it was under different circumstances, but it has definitely forced me, and a lot of artists I'm sure, to accept that shows aren't happening, so let's just write a bunch of dope tracks."
Diving deeper, I asked what he thought the best and worst things were about the current situation. He replied with, "Worst part of covid is not being able to be on stage and perform, by far the worst. I absolutely love interacting with fans. Best thing about covid...I was already really good at making margaritas and now I'm even better."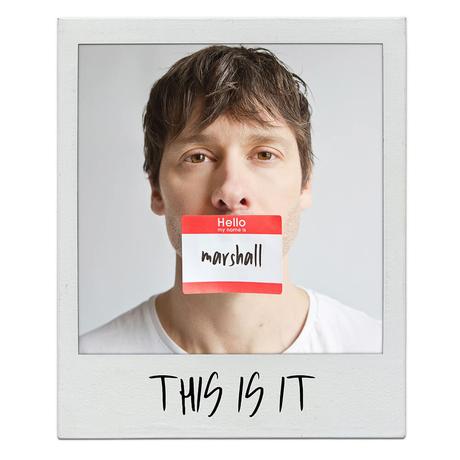 Despite not being able to perform live, artists have been finding ways to connect with fans, and Marshall is no exception. Enter Marshall Mondays. We asked how things got started and were told, "When the pandemic hit I wanted to make sure I could stay connected with the fans. Now that we're out of the major lockdown phase and people are starting to have a sense of normalcy again, it's hard to remember how debilitating that trapped feeling was, but I wanted to do my part of giving my fans something to look forward too with entertainment. And it's just not my personality to sit down and play a song...I need more LOL...so I created a little variety show that only lasts about 15 minutes and I'm the host and the musical act, and it's got a top 10 memes segment, news of the day, and sometimes a guest. Now that I think about it, it might have been more about keeping myself sane than helping out the fans. LOLOL."
You can tune in on Monday.
As a tattooed person, I'm always curious about other people's ink. I don't usually ask in interviews, but because Marshall felt free to bare it all, I had to ask. " I have a tattoo on my back that is a version of my family crest, but instead of the deer that goes inside the crest I replaced it with a lion cuz I'm a Leo. On my arm, I have an anagram that has my sons' names spelt right side up and upside down. Family is very important to me. It will always be something I give everything I can to protect."
Thanks to Marshall for taking the time to answer our questions, and for recording a 5 Quick Questions segment for us. We'll be watching for new music!
Marshall's Links