Every year, upon the start of the European Football calendar after each Summer, names are touted around of suggestions and hot tips for the new campaign's "breakout stars". 8 months ago, few people would've paid any attention to the name – Marcos Aoás Corrêa - on Italian outfit AS Roma's "Transfer Ins" list.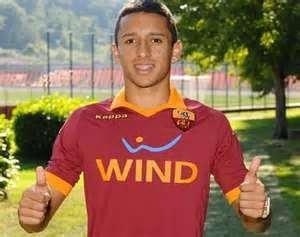 Signed on a loan deal with a permanent option, the young Brazilian with his moniker – Marquinhos – is now an in-demand starlet and highly tipped to be a future Seleção star.
Background: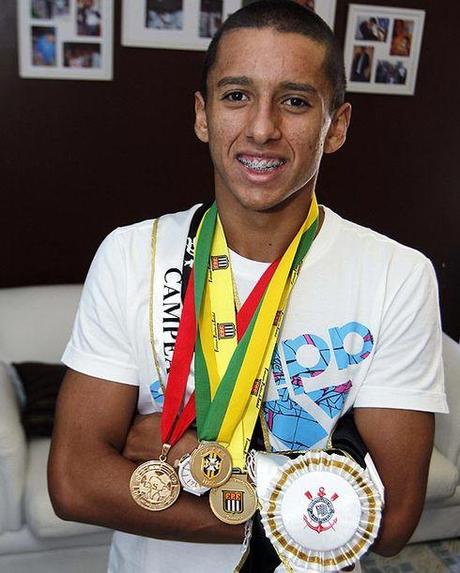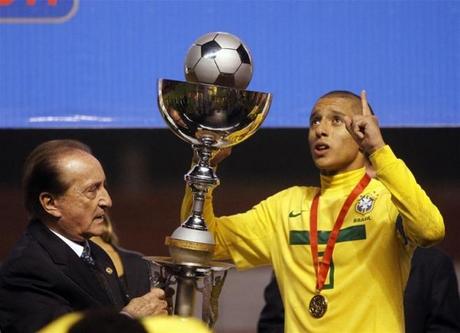 Marquinhos joined Cornthians in 2002, at the age of 8, and proceeded to move up the youth ranks of the Timão over the next 10 years. Marquinhos impressed so much during his time in Corinthians' youth ranks that he was called-up by and made captain of Brazil's U17s in the 2011 South American Under-17 championship. With Brazil winning the South American U17 title, they qualified for the U17 FIFA World Cup that year, with Marquinhos again being handed the captaincy.
In Mexico, Brazil finished 4th, with Marquinhos playing 6 of their 7 matches and earning only 1 yellow card. After a stellar 2011, Marquinhos continued to shine in 2012. In the 2012 edition of the prestigious Copa São Paulo de Futebol Júnior(São Paulo Youth Football Cup), the young Brazilian added more impressive displays to his CV, culminating in a 2-1 win over Fluminense in the Final. Marquinhos was clearly banging on Corinthians' 1st-team door.
With his maturity and leadership qualities, and not forgetting his on-pitch quality, it was of no surprise that Marquinhos eventually broke into Corinthians' 1st-team.
Breakthrough at Corinthians: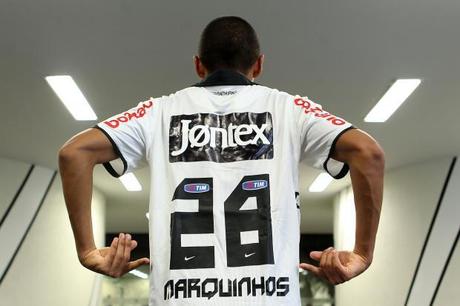 With his impressive performances at youth level, Marquinhos' form in the aforementioned prestigious Copa São Paulo de Futebol Júnior proved to be the final piece in the jigsaw of proving to Corinthians 1st-team Head Coach Tite that he was ready for a shot in the 1st-team. A 1st-team debutant at the age of 18, Marquinhos went on to make 6 1st-team appearances in the 2012 Brasileirão, playing the full 90 minutes on 5 occasions, and providing 1 assist.
While impressive when given the chance, the youngster also showed some versatility – playing in central defence in 2 full matches and as a defensive midfielder in 3 full matches. Coach Tite was so impressed with Marquinhos that the young Brazilian, then aged 17, was on the 1st-team bench for each and every one of the knockout stage matches of Corinthians' victorious 2012 Copa Libertadores triumph.
Just look at that, within the span of 6 months, Marquinhos had become a Copa Libertadores champion and also turned 18 along the way.
Into the big time – AS Roma: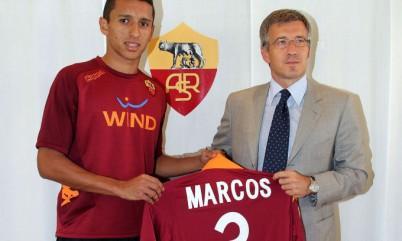 After catching the eye of Roma's South American scouts, they took the gamble of signing the then 18-year-old in the summer of 2012, despite him having just 6 months of 1st-team experience in Brazil. The deal was a loan(€1.5m fee) with a €3m permanent option - with the trigger being Marquinhos making 8 1st-team appearances of 45 minutes apiece.
Barely a few weeks after his signing was formalised, Marquinhos made his 1st-team debut on 16 September 2012, playing the last 16 mintues of a 3-2 loss to Bologna. A fortnight later, the young centreback came off the bench to play an hour of a catastrophic 4-1 thrashing at the hands of defending Italian champions Juventus. Slowly but surely cementing his spot in the Giallorossi Starting XI, Marquinhos has gone on to make 23 Serie A appearances(all but 3 as a starter) and 3 in the Coppa Italia. The only thing that broke his string of 12 consecutive 1st-team appearances is a suspension from being sent off, following a late handball, in a 3-1 win over Milan just before the winter break.
Roma's summer signing became such as crucial 1st-teamer that the club withdrew him from international duty at the South American Under-20 championship, held in January 2013.
Overview – Majestic debut season in Calcio: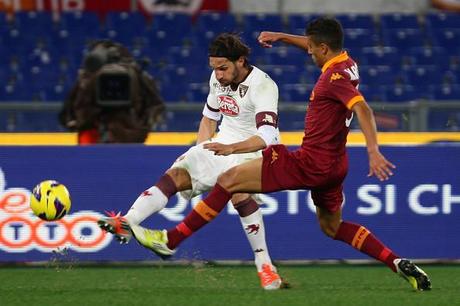 An 18-year-old holding a starting spot Serie A is most rare, let alone at a team as big as La Maggica. Marquinhos is a rare breed, such is the unforgiving nature of Calcio, what with the intense scrutiny of TV pundits on the various well-followed match review shows. Leandro Castan, Marquinhos' former Corinthians team-mate, has been left to fight for the other starting spot in central defence with Nicolas Burdisso. Ironically, 2012 summer signing Leandro Castan had insisted upon Roma signing Marquinhos. In light of Roma's much-talked-about defensive problems – a negative of Zdenek Zeman's gung-ho offensive tactics – this season, Marquinhos has more-or-less escaped criticism, a result of the 18-year-old consistently delivering impressive performances every week. Despite still being only 18, Marquinhos has been Roma's most important defender since cementing his starting spot in the middle of the Giallorossi defence.
(All stats are from WhoScored.com)
At first glance, standing at 1.83 metres, the lean Marquinhos is not the most intimidating of central defenders. That said, he does win his share of aerial duels, at 2.3 per game. That figure is the best at Roma and, league-wise, is better than that of bigger names like Philippe Mexes. Being still only 18, the Brazilian still has room for more physical growth, which can only be a good thing. However, his natural athleticism does more-or-less cover for that, as they enhance his key attributes – his maturity and game-reading ability. Marquinhos evidently has, as the saying goes, "an old head on young shoulders".
He is currently 18th in the Serie A interceptions chart, on par with veteran Andrea Barzagli, and better than the highly-rated Facundo Roncaglia and Napoli captain Paolo Cannavaro. With only 19 fouls(0.8 per game) at the time of writing, Marquinhos is currently 352nd on the "Most Fouls" chart. As with all modern day central defenders, Marquinhos is good on the ball and playing it out of defence, with an impressive 88.8% passing accuracy. Almost every Serie A centreback would like to have Marquinhos' statistics, which makes the fact he's still a teenager all the more staggering.
"No Serie A player has made more last man tackles this season than the teenager (10), who leads his side for both interceptions (2.9) and aerial duels won (2.2) per game, proving that his reading of the game is at the level of a far more seasoned pro."
Martin Laurence of WhoScored
A look to the future: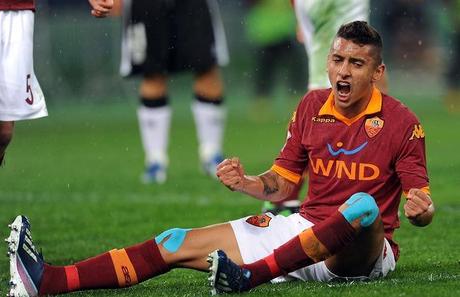 Marquinhos has thus far shone, not just adapted, whenever he's been pushed to the next level – youth team to 1st-team, Corinthians to Roma. This bodes well for the young Brazilian's career prospects, as Football has seen all too many a promising youngster fail to make that "next step", rendering him unable to realise his full potential. I'm confident that Marquinhos will not fall under the "what could've been" category. With his leadership qualities, maturity and talent, and not forgetting his current high performance level in such a prestigious league, long story short – the sky's the limit for Marquinhos.
Roma are currently looking to upgrade the youngster's current €0.8m(per year) wage to fend off interest from elsewhere. With his impressive and mature displays in his debut season in Italy, some of the Football's biggest clubs are looking to sign him. Among others, FC Barcelona and Manchester City have been linked as potential new employers. However, the Roma stopper is unlikely to leave the Stadio Olimpico anytime soon. There is still much room for improvement and staying at Roma for at least the next few years will provide the stable environment that promising youngsters like Marquinhos need to develop and, eventually, realise their potential. Considering the ambitions of this AS Roma "project", Marquinhos could possibly play out his peak years in the Capital club.
Marquinhos told La Gazzetta dello Sport: "I am not thinking about a transfer. I owe Roma a lot for the chance they gave me."
Whether Marquinhos eventually leaves Roma or stays for the long haul, 1 thing's are for sure – Marquinhos will become a Seleção star sooner rather than later. Furthermore, with his past as Brazil U17 captain, Marquinhos could eventually captain Brazil at senior level.
Over the course of this 2012/13 season, Marquinhos has proved his worth enough to be rated as the best young central defender in the World at the moment, alongside Real Madrid's Raphaël Varane.
Of all the possible "breakout stars" that had been tipped to emerge in the 2012/13 Serie A season, few would've bet on an 18-year-old Brazilian centreback being on that list.
Marcos Aoás Corrêa is indeed a rare breed in Calcio.