In the month of August in 2008, the Abu Dhabi United Group took ownership of Manchester City Football Club, buying out then owner Thaksin Shinawatra. Though signing a Brazilian – Robinho – was their landmark moment, few people could've foreseen that the signing of a £34m-rated Brazilian midfielder who was born in Londrina, Paraná would be the signing to take the club another step up the Footballing ladder. Step up Fernando Luiz Rosa – Fernandinho.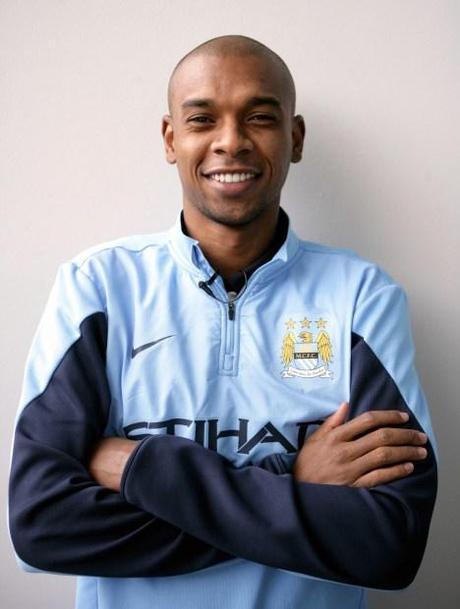 Fernandinho's Competition: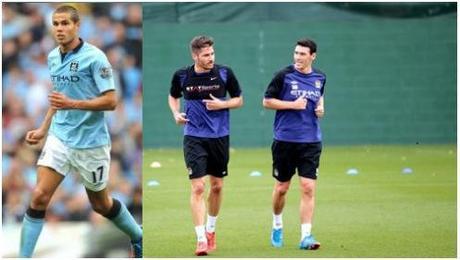 Fernandinho's direct competitors at Manchester City – Jack Rodwell, Javi Garcia & Gareth Barry
Assuming that Man City keep all of their current options for their double pivot in midfield, Fernandinho's competition for the spot as Toure Yaya's midfield partner would be Gareth Barry, Jack Rodwell and Javi Garcia. I'd fully expect Fernandinho to start ahead of all 3 of those players. While Jack Rodwell could possibly have a key role to play in the future, he is too injury prone for Manuel Pellegrini to count on right from the start of his managerial reign. Javi Garcia played well enough at Benfica to earn a move to Manchester but, put simply, he has not given City their money's worth. Though the Spaniard will be useful to Manuel Pellegrini with his ability to play in defence and midfield, he is not THE player that City need to give their midfield engine room a much-needed boost, when facing stubbornly defensive opposition, albeit without sacrificing any defensive solidity. Gareth Barry has been a solid performer for City since signing from Aston Villa but his limitations both physically and in the attacking areas are crucial elements that will see Fernandinho displace him in City's double pivot in central midfield.
Statistical Comparisons:
(The statistics used are from WhoScored and are of the 2012/13 UEFA Champions League)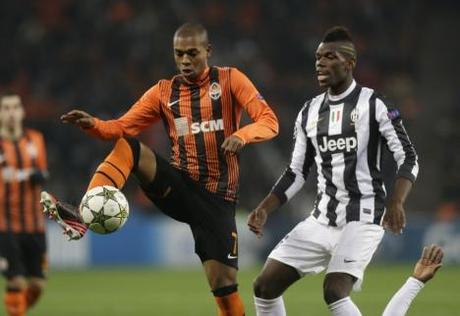 As with any midfielder, passing is 1 of, if not the, most important tools of the trade. Fernandinho has an 86.2% pass success rate from 8 appearances. That compares extremely fairly to his expected competitors at Man City – Barry has 86.4% from 4 apps, Toure 86.1% from 5, Garcia 90% from 5. While Barry and Garcia have better pass success rates than Fernandinho and Toure, the former duo spend most of their games away from the final third. Barry and Garcia do not often have to attempt a penetrative pass further forward, while Fernandinho and Toure do, hence it is only logical that it would be much easier for Barry and Garcia to log higher passing rates – Most of their passes are "safe passes" just to keep the ball moving along when City have possession .
In terms of "key passes", Fernandinho averaged 1.3 per match. Barry averaged 0.8, Toure 1, and Javi Garcia 0.2. This is in line with the aforementioned point of passing rates, though they have their uses, not being the be all and end of studying any midfielder.
While Fernandinho does have the ability to start attacks with his passing ability, he is also able to use his athleticism to dribble forward as well. With 3.9 successful dribbles per game, Fernandinho's stats in this aspect dwarfs those of Toure(1), Barry(0.3) and Garcia(-). In fact, in the 2012/13 Champions League Group Stage, the Brazilian was ranked 3rd in WhoScored's list of "Players with the most successful dribbles per game".
Where direct tackling is concerned, Fernandinho made 3.3 successful tackles per game while Toure made 1.4, Barry 2.3 and Garcia 1.4. The Brazilian's tackling stats put him ahead of the likes of Ramires(3.2), FC Porto stalwart Lucho Gonzalez(3.2), Nemanja Matic(3) and Michael Carrick(2.7). Now on to defending, where Fernandinho has shown his ability to intercept the ball, with his 3.5 interceptions per game being on par with the likes of Nigel de Jong and slightly better than the likes of Blaise Matuidi(3.3), Ignacio Camacho(3.3) and Benfica's impressive Nemanja Matic(3). For comparison's sake, Toure made 2.4 interceptions per game, Barry 1.3 and Garcia 1.2.
Whilst tackling is frequently perceived to be the key to whether a player is truly able to defend, I'd strongly disagree. For example, it has been said that Alex Ferguson's decision to sanction the sale of a then 29-year-old Dutch centre-half Jaap Stam in 2000 was partly aided by statistics – Stam's tackling stats had declined after an achilles injury. In actual fact, Stam's interception stats had improved, showing that he had become more mature and hence the Dutchman did not need to make as many tackles as before as his game-reading ability and positioning nous had improved. Thus, Stam had in actual fact improved, contrary to Ferguson's thinking.
With the Jaap Stam anecdote in mind, Fernandinho most certainly is a reliable player to have when his team is forced to defend.
On the whole, Fernandinho has shown that he has the ability to not only be a threat going forward, but also more than holding his own when defending.
Stepping in at Manchester City: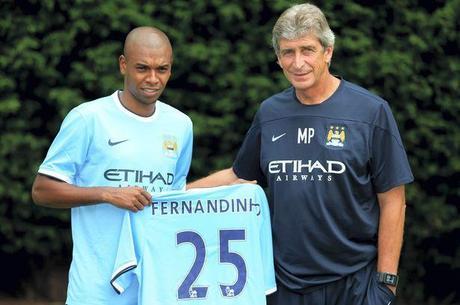 Fernandinho & Manuel Pellegrini
With years of UEFA Champions League experience(knockout stages included) and also having won 6 Ukrainian Premier League titles, 4 Ukrainian Cups, 3 Ukrainian Super Cups and 1 UEFA Cup, Fernandinho will most definitely add to the "winning mentality" at the Etihad Stadium.
Fernandinho will bring athleticism, dynamism and more quality in the more attacking midfield areas than any of his aforementioned direct competitors – Gareth Barry, Jack Rodwell and Javi Garcia. Able to transition quickly from defence to attack, be it through running with the ball or executing an accurate pass, Fernandinho gives City a greater ability to play on the counter-attack. This will be crucial in Europe, where City have failed to meet expectations. At Shakhtar, Fernandinho was used as a box-to-box midfielder who played his part in a double pivot providing a defensive screen in front of the defence. He joined the attacking play from deep, providing key bursts of creative inspiration and movement with his Football intelligence and decision-making ability ensuring that he made the right type of run, to the right area of the pitch and at the right time. With forward runs from deep, timing and decision-making are crucial tools. Fernandinho most definitely has both those attributes. While the Brazilian is not known for his passing ability, he is more than capable of successfully executing an incisive forward pass when given the chance.
Defensively, Fernandinho and his previous midfield partner Tomáš Hübschman were key to Shakhtar's menacing defensive record, especially at home in the Donbass Arena. With such strong foundations for coach Mircea Lucescu and Shakhtar's attackers – Willian(replaced by Taison in January 2013), Henrikh Mkhitaryan(now at Borussia Dortmund), Alex Teixeira and Luiz Adriano – to build on, it is no wonder that the Ukrainian giants have hugely impressed in the UEFA Champions League with their tactical solidity in defence and eye-catching creative play going forward.
One of Fernandinho's biggest strengths is his versatility from a tactical standpoint, perhaps not positionally but rather in terms of the types of duties that Pellegrini can ask of him. The Brazilian can play as a box-to-box midfielder, taking turns with Ivorian powerhouse Toure Yaya to bomb forward and join City's star-studded attack. He can also be used as a more specialised defensive midfielder, which City have lacked since the sale of Dutch destroyer Nigel de Jong to AC Milan. Furthermore, Fernandinho can play as a ball manipulator tasked with keeping the ball moving and hence aiding his team's dominance of possession – Think Sergio Busquets, but of a more box-to-box variety. While Barry, Garcia and Rodwell each provide 1 of those 3 tactical options, Fernandinho can not only do all 3, but do them with great quality to boot. Fernandinho gives Pellegrini the option of tweaking or altering the team's tactical approach in midfield without the need to make any substitutions.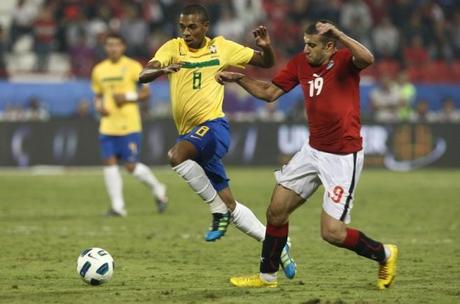 Fernandinho in action for Brazil
Fernandinho set for a return to Brazil next year? Don't bet against it. With his move to a "more visible" league and club, he now has everything needed to get a phone call sometime next year from Brazil coach Luis Felipe Scolari for the 2014 FIFA World Cup.
The £34 million that Manchester City paid Shakhtar Donetsk may seem an overpriced fee to some, but if Fernandinho plays as well as I know he can, he'd have been worth every penny.