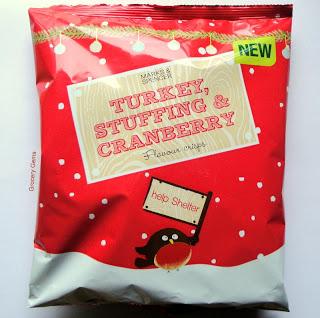 Don't these look cute? I love the bright red snowy packaging and little robin on the front, it's very festive. My expectations are always quite high with Marks & Spencer and I had no doubt that these Turkey, Stuffing & Cranberry crisps would be an improvement on the other Christmas crisps I tried recently (from Tesco).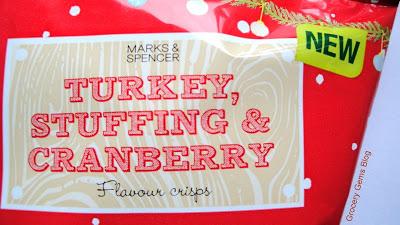 Straight out of the packet I could see that these M&S crisps looked fantastic; there were no over baked or limp looking crisps here. The color is invitingly golden, with a visibly abundant sprinkling of seasoning.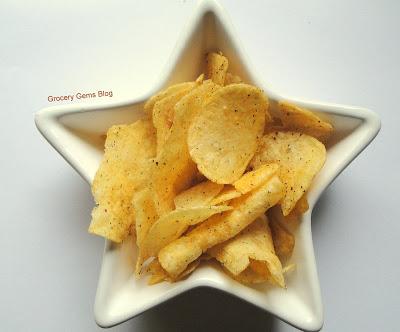 The initial flavor was very good, they had a rich meaty taste. The stuffing flavour was delicious too, there was lots of herb flavor coming through and quite a lot of onion too. In fact I would say the onion flavor was particularly dominant in these crisps and left a lingering aftertaste.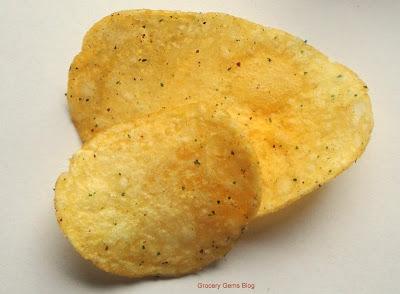 Unfortunately there wasn't any cranberry flavor that I could detect, which is only a problem because M&S include the words "& Cranberry" in the product's name. I can't even say that there was an underlying sweetness to the flavor as the crisps are predominantly salty and meaty. However, as a simple roast turkey and stuffing flavor they were delicious.
Grocery Gems Verdict: Marks & Spencer Turkey, Stuffing & Cranberry Crisps
RATING: 8 out of 10.
Buy them again?: Yes, it's Christmas - time to ditch non-festive crisp flavours!


Nutrition:

205 calories,

2.2g protein, 22.0g carbohydrate (1.6g sugars), 11.6g fat

.


Purchased

:

Marks & Spencer.




Price

: £0.55p for a 40g bag.