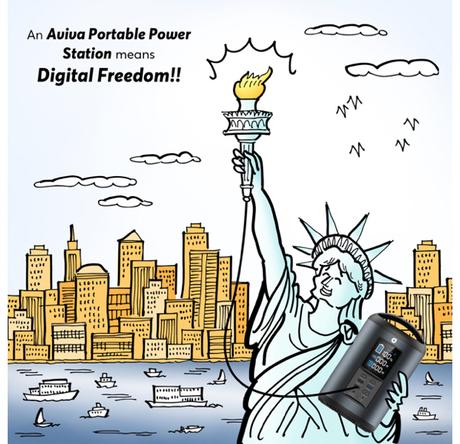 I had a fun assignment from Alok Sarna of Ambassador Ventures. Alok partnered with VLC Distribution to create a line of portable power stations under the brand name Aviva.

Basic idea: you plug your Aviva Power Station into a standard wall outlet and store power. It has a number of ports which allow you to charge several phones and other digital devices at the same time.

You can unplug the power station and use it as a portable power source. On a camping trip, for example– to charge your phone, power a laptop, charge an electric bicycle, etc.

At home, the Aviva also gives you backup power in case of a power outage.

Alok was looking for images he could use on LinkedIn and social platforms like Facebook. He was open to humor– something that would attract attention and motivate people to read about the product.

I suggested a 6-panel sequence: two images to attract attention, three to show the product and its features, and a concluding panel with the Aviva logo.

The images could be formatted as a PDF slideshow, an animated GIF, or a short video. The panels could also be used for standalone social posts.

Alok liked the concept, and my next step was to sketch out several story ideas. One of my strengths as an illustrator is giving clients several ideas to choose from, then revising as necessary.

I came up with six storylines, and here they are. (You can probably guess from the header illustration above which one Alok liked best.)

Jigsaw Puzzle
Fruit Basket
Statue Of Liberty
Work From Home Chef