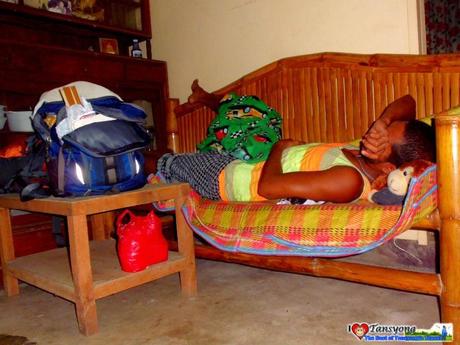 Mang Victor arrived at Sta Cruz around 6:30PM and we hurriedly ride to his tricycle. We tell him about what happened - the haggling between us and the tricycle drivers around the town. Indeed, we are very thankful to have Mang Victor.
"Good thing you guys remembered me" he said.
He drove us going to Mogpog. We are not prepared of the coldness of the surrounding. Our way is too dark and the good thing is
Marinduque's
main road is smooth – enough to reduce our fear. We are not even ready about the span of travel time. I personally expect that it only takes around half hour to reach
Mogpog
. However, we arrived almost 8:30PM.
The house of Mang Victor is situated near at Balanacan Port – beside the office of Naval/Marine Police station. Mang Victor was very nice to us and accommodating person, despite that we just barely know each other. He brought us to his mother's house which is idle and no one stays. It is just behind to his house and small store.
We quickly cleaned up the house so that we can able to sleep then.
"
Oh! Kayo na bahala dito , may mga outlet jan at pwede kayo magcharge.
(Alright guys! You know what to do, there are electrical outlets available and you can use it to recharge your gadgets)" Mang Victor said.
After we finished cleaning up, we positioned ourselves to sleep and so Mang Victor gave us ventilation. While we were lying down, we talked about our adventures happened in the entire day. The night was full of laughter despite of tiredness. "
Grabeh yung araw na to, sobrang dami nangyayari
(This day is truly amazing, we've been a lot of things today)"Irene said.
"Guys, let's give Mang Victor an incentives. Let us add at least 25PHP each one of us for the fair" Bonj said. Everyone agreed after we learnt how far the Town of Sta. Cruz going to Town of Mogpog. And so we contributed PHP100 each plus the incentives of PHP25. We gave it to Mang Victor, "
Naku Salamat po, nag pa gasolina kasi ako ng PHP300 pag sundo ko sa inyo
" Mang Victor said. Not bad he still earned PHP200.
We slept deeply ….. Lights off…..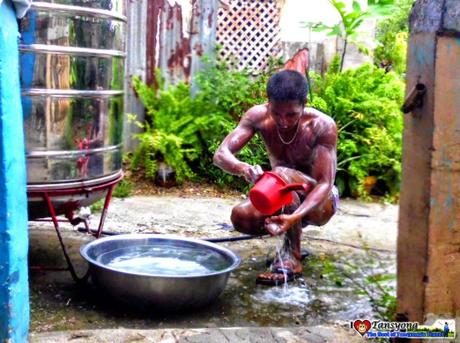 Taking a bath outdoor during my couchsurfing 
Meanwhile, let me share you about what is "CouchSurfing". It is a temporary stay in a series of random people's homes, typically making use of improvised sleeping arrangement. And our team accidentally experienced such practice – CouchSurfing – a cheap form of lodging used mainly by travelers like us which is on a shoestring budget.
The normal concept of couchsurfing is done online. There are lots of websites that you can join with (e.i. Couchsurfing International Inc.) that offer hospitality exchange. There are two parties that play a huge rule mainly the surfer (like us) and the host that offers the accommodation. You can check who the legitimate hosts are online and contact them directly prior on your travel. However in our case, it was unexpected CouchSurfing – we are lucky that we are in good hands of a good host.
It was my first time and I love the feeling of sleeping in a house of random people because they (hosts) allowed you to be part of their home, immerse their culture, and know their lives. What I like about it, is you able to save a huge amount instead of staying in a hotel. Moreover, you will also learn to trust and build friendship at the same time.  But you still need to be cautious to choose your future host to avoid misadventures.
"RING! RING! RING!!!!!!!! 4AM" the phone alarmed and only Norie and I forced ourselves to wake up. Bonj and Irene were still snoring. Norie and I decided to go out and look for food store. The wind outside was very cold as we were facing towards the sea.
Refreshing and fulfilling. We paid PHP50 each one of us for the Couch Surfing.
After we ate our breakfast, we started to prepare for the brand new day – The last day of Marinduque Challenge 2014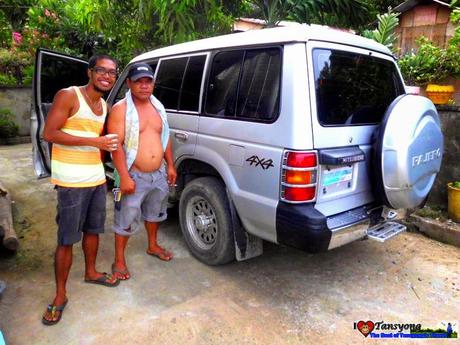 I am with  Mang Victor
Expenses:
Tricycle from Sta Cruz to Mogpog – PHP125 each.
Couch Surfing – PHP50 each
Breakfast :  Footlong hotdog and Pancit Bihon – PHP45
Host : Mr. Victor Limpiada
Phone Number:
Near Balanacan Port.