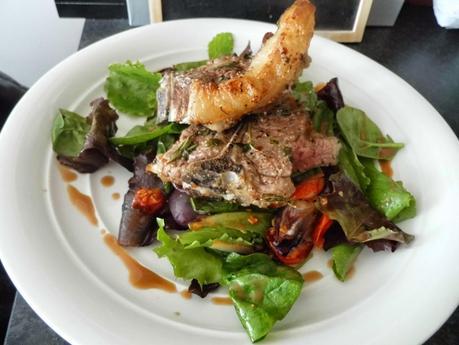 Lately I've become utterly obsessed with Leeds Market when it comes to my food shop. I've watched food programes since I was a tot and never really gave much of a toss about these great markets in Britain until recently. Whilst walking around, picking up fresh duck eggs and nibbling on bits of sample cheeses, it occurred to me, my Dad would often tell me to visit the local market in Chester, to keep it alive for others to enjoy too when it was threatened to be closed, but the importance just never sank in until now. The huge range of fruits, veg and meat you can pick up is incredible - not to mention cheap! I will forever wince at the price of meat and veg in Morrisons or Tesco after my recent ventures. 
So in honor of my Dad, the ever experimental "throw whatever you have in the cupboard in it" kind of cook. I picked up some quality lamb cutlets and stocked up on my fresh herbs & headed home to pull together a fresh, summery (and relatively healthy) tea for me & Creature.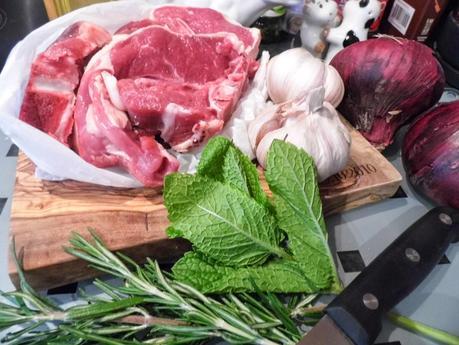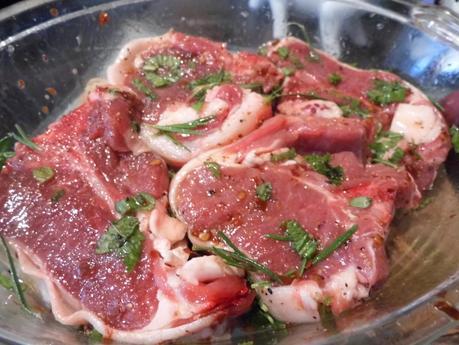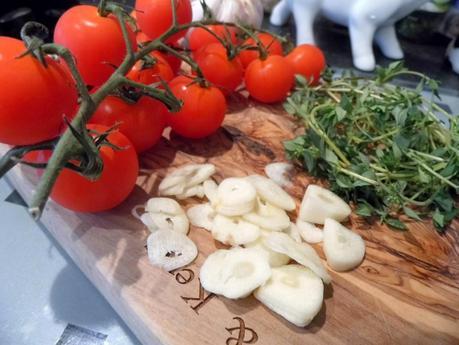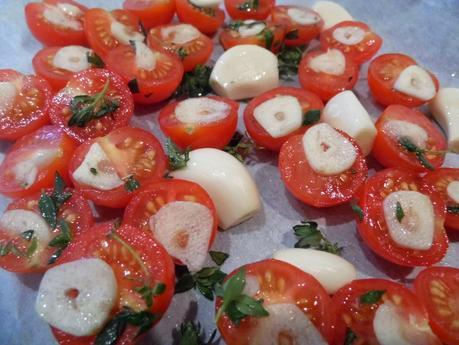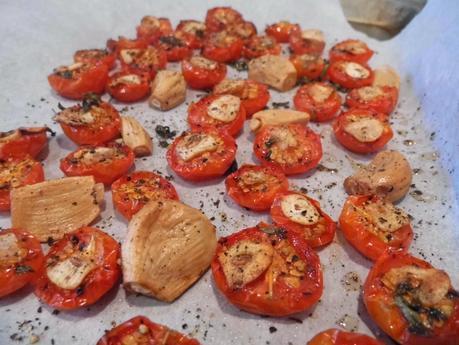 After routing through my veg stocks, I decided upon a slow roasted baby tomato salad with balsamic glaze to accompany the lamb. My fridge is stock full of salad, veg and fruit at the moment as myself & Creature are on a major health kick. So many of the bits you need for this recipe I already have as cupboard essentials. So without further ado. Here is my recipe for Marinated lamb with slow roasted garlic baby tomato salad. 
Ingredients:
The lamb & 
marinade
:
(Feeds 2)
4 Lamb cutlets on the bone
Olive oil
dried 
chilies
fresh mint
fresh rosemary
Garlic pepper seasoning
For the roasted tomatoes:
1 packet of sweet baby tomatoes
1 bulb of garlic
black pepper
sea salt
Fresh thyme
Olive oil
Salad:
1 packet of mixed baby leaf salad or Rocket
balsamic vinegar or dressing
red onions (roasted or raw)
Fresh mint
Fresh basil
This may seem like a lot of ingredients, but the most important thing for this recipe is the balance of herbs. For those of you who don't have garlic pepper for the marinade, using garlic salt and a twist of black pepper would be fine. Or even fresh garlic and chilies would work a treat too.
1. The Lamb marinade:  Firstly you need to marinade the meat. Finely chop 2 sprigs of rosemary leaves and mint, mix 3 table spoons of olive oil in a large dish and add in 1 tsp
 of dried chilies & 1 tsp garlic salt. Sprinkle in your fresh herbs and mix with a spoon until evenly distributed in the oil. Next drop your cutlets into the marinade and made sure they're all lightly coated. 
Cover with cling film and leave to rest in the fridge. The longer you leave them the better, over night would be best. But 4 hours+ will ensure your meat had 
absorbed
 enough of that gorgeous 
flavor
. 
2. The roasted tomatoes: Cut your baby toms into 
half's
 and mix in a bowl with 1 tbsp of oil, ensuring all have a light coating. Next finely slice 3 garlic cloves and a handful of fresh thyme. Distribute the tomatoes across a lined baking tray, and place a thin slice of garlic on each one. If you enjoy roasted garlic you could also like I have roast some whole cloves too, but this is optional. 
Next,  sprinkle the toms with cracked black pepper and place in a preheated low oven at 140'c for 2 hours. Make sure they are wilted but still a little juicy when took out of the oven. They should be soft and deliciously sweet. 
Leave the tomatoes to cool once cooked so they are at room temp when served. In the mean time, turn on your grill for the lamb.
3. Cooking the Lamb: The lamb will only need 3-4 minutes on each side to ensure it is medium and pink inside. I prefer my lamb pink and juicy. However if you prefer yours rarer, or even well done, add or 
subtract
 1 minute cooking time. 
The meat should spring back to the touch and the fat will have crisped up some when done, but again this is personal preference. - leave to rest for 5 minutes.
I grilled my lamb to ensure any excess fat was drained off, this was a healthier option for myself and creature. Feel free however to roast the meat instead - basted in its own juices.
4. Assemble your dish: Whilst the meat is resting, in a salad bowl place your salad leaves, whole mint and ripped basil leaves, roasted tomatoes and garlic and toss together. The tomatoes will break up some and create a lovely sweet juice that coats the leaves. On this occasion I also slow roasted some red onions in just a little oil, salt and pepper and tossed with the salad.
Add a liberal handful of the salad in the middle of your plate, dribbling a drizzle of balsamic vinegar around the plate and over the leaves. Then place your cutlets on the top & enjoy with a glass of vino!
Would you try my marinated lamb & salad?
B
loglovin

 | 
Facebook
 | 
Twitter
 | 
Instagram
 | Lookbook